The Rebel of Clan Kincaid Book Review
The Rebel of Clan Kincaid is a story of revenge, rebellion and desire.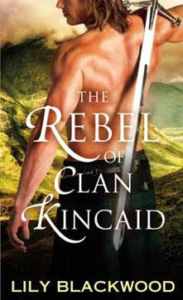 About The Rebel of Clan Kincaid
Magnus isn't who he thought he was. Unbeknownst even to the laird Alwyn himself, Magnus is in fact Faelan Braewick the second son of the murdered Laird of Kincaid and his wife. Magnus wants nothing more than to unleash his revenge. Yet rather than reveal his identity  he returns to Alwyn's treacherous hall in search of answers about what really happened the night his parents were killed and to also free the mysterious young woman imprisoned in the laird's tower and claim her for his own.
Tara Iverach is a prisoner. Ordered to marry Bryce, the Laird Alwyn's brutish eldest son, she has been confined to the laird's tower "for her own protection." She fears the day she will be forced to marry Bryce but fears even more that the laird has decided to keep her for himself. The only light in her days comes from Magnus and their fleeting glances and clandestine messages. But with her wedding day approaching and a dark secret rising to the surface, can Tara trust her heart to this rebel?
My Thoughts
The Rebel of Clan Kincaid is so much more than a Highland love story. We have a young man who has lost his memories as a young child, who finds out he is the son of the much loved and respected Lairds in Scotland, Laird of Kincaid. This revelation is almost too much to bear. His parents were coldly murdered and the children were all supposed to have been murdered as well. He has and needs answers to be able to move forward but the path to get these answers is full of danger and murder. Instead he returns to the home of the man who took him and whom he also suspects took part in the murder in order to gain his trust and find out more about the murders.
At this same time, we have Tara the younger sister of the first bride of Bryce. She is full of fear, mistrust and anger. She yearns to be free of her captors and has to learn to rely on Magnus for protection and deliverance to safety. There were so many times my heart went out to Tara in this novel, she had went through so much and still came out fighting throughout the novel.
This novel was fantastic, fast paced and well written. The plot evolves in such a perfect way that you are never left craving more but always have just enough information at the right time. I truly loved every moment of this historical romance, especially more so that it went above and beyond the romance to provide you with a great plot of revenge and rebellion.
You can purchase a copy of this book on Amazon.
Rating: 5/5
About the Author
Since her earliest days, Lily Blackwood has found a friend in books. Raised an Army brat, her family moved often and books were her constant companions who always smoothed the transition to a new location and a new set of friends. Now, Lily lives in Texas where she writes sexy historical romance novels about fierce Highlanders looking out over a garden tended by her own handsome and dashing husband. She suffers endless (fun and always welcome) interruptions by her two children. And like many authors, she writes with a cat or two wrapped around her legs.
Disclosure: I received a digital copy of this book in order to facilitate this review. All opinions expressed are my own.