ScriptureDoodle A Six Week Devotional Experience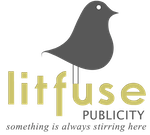 In these two colouring books, we find inspiring exercises and prompts, this unique interactive guide introduces readers to a creative connection between Bible study, artistic expression, and worship.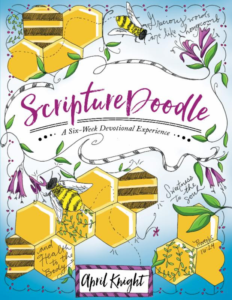 About ScriptureDoodle
The first ScriptureDoodle: A Six Week devotional Experience focuses on that often in the busyness of life, Christians forget that God created them to enjoy creativity. With guided instruction and completed examples, this beautiful book invites readers to draw closer to God through their own art.More than a coloring book, ScriptureDoodle is a combination of Bible study, creative expression, and artistic community with artwork shared online at #scripturedoodle. Exploring topics such as being generous, finding rest, and facing grief, ScriptureDoodle gives the heart the creative space it needs. This book stimulates the reader's imagination and helps integrate God's Word into everyday life.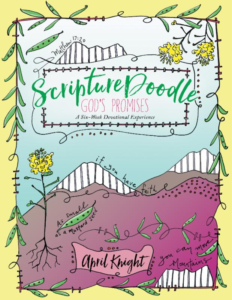 In ScriptureDoodle God's Promises: A Six Week Devotional Experience we are exposed to sScriptureDoodle God's Promises refreshes believers who are feeling burned out or stuck in a rut in their relationship with God. Each of the creative worship prompts in this interactive guide includes biblical encouragement and ideas for worship through art. Artist April Knight includes creative lettering tips, color ideas, and completed examples to inspire readers to respond to promises in Scripture related to trust, faith, and the power of God's Word in all circumstances.ome of the most incredible stories in the Bible are of God's promises and faithfulness to His children.
My Thoughts
I fell in love with April's introduction into her books. She had found she was losing her way and working on her art for business versus pleasure. I find so many times in life that I am pulled away from what I love and my relationship with God to focus on earning an income. I love my art and when I was young I decided not to mix my love of art with work, whether that was a selfish mistake is yet to show but I do know that I miss the magic and feel of sitting down and just creating the first thing that comes to mind.
These six week devotionals help you go through day by day exploring scripture and translating it in your own way through doodles. April gives many helpful tips on doodling, items you will need, lettering and bordering but one of her best tips? There is no wrong way – the only wrong way is to not doodle. Art is personal and a reflection of you. There is no wrong art and no bad art. So listen to the scriptures and let your heart pour out in your doodles. The scriptures are well chosen and really help guide you through the six weeks of reflection and understanding.
These two books are great for young adults and adults a like. You will love the easy to follow writing, doodle suggestions and creative freedom.
You can find more reviews on the Litfuse blog tour page. You can purchase a copy of the book here for ScriptureDoodle and here for ScriptureDoodle God's Promises.
Rating: 5/5
About the Author
April Knight is a worship artist based in Asheville, North Carolina. Knight's work includes live worship painting and leading ScriptureDoodle workshops online and at conferences and retreats around the country and internationally. Her family of four is her greatest joy, along with serving alongside her husband at their local church.
Disclosure: I received a copy of these books in order to facilitate this review. All opinions expressed are my own.