An English professeor starts a new chapter in her life and is swept up in a Jane Austen-esque romance with a modern day duke.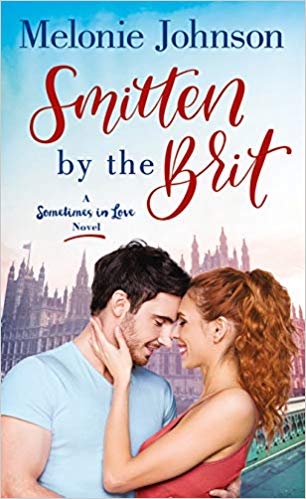 About Smitten by the Brit
English professor Bonnie Blythe expects her life to play out like her favorite novels, especially now that her long-term boyfriend has finally proposed. So when a shocking discovery leads Bonnie to end her engagement, she decides to close the book on love. But the plot thickens when a brand-new character enters the scene—and quickens Bonnie's heart.
With his brilliant blue eyes, sexy accent, and irresistible charm, Theo Wharton is like a romantic hero straight out of a Jane Austen novel. When fate places Bonnie in England for a summer—conveniently close to Theo—she realizes a hot friends-with-benefits fling is exactly what she needs to start a fresh chapter. Just as Bonnie begins to believe she's falling in love, an eye-opening revelation into Theo's life makes Bonnie feel like she's wandered into one of her favorite books. Will Bonnie have the courage to risk her heart and turn the page with the dashing Brit to find her true happy ending after all?
My Thoughts
I loved every moment of this romantic, funny, laugh out loud novel. We have two irresistible main characters, one a handsome Brit (who is a bit more than he makes out to be!) and the lovable Bonnie, a true romantic and historian at heart.
The novel starts off a bit dramatically in a way that breaks my heart for Bonnie. She is such a sweet, kind and compassionate person that the actions that lead up to the break up of her engagement hurts. But this is the turning point for Bonnie. She decides to take life by the horns and do things that she wasn't doing for herself – including traveling to England to teach! I was so proud of her independence and challenging herself, especially when you so easily fall to depression. She even throws in a fling, something that is way out of character for her.
Theo is the perfect counterpart for Bonnie, while he has always been there for her as a friend, you can tell that he definitely feels a lot more for her. He is just a kind, good person with some serious charm, the type of person that you would love to have in your life whether as a friend or as a partner. But he comes with his own surprise and Bonnie isn't too sure if she can handle it (or whether she is good enough maybe?). It definitely threw me through a loop!
This is a definite must read novel this summer. You will not want to put it down, it is well written, sexy, funny and perfect from start to finish.
You can purchase a copy of this book on Amazon.
Rating: 5/5
About the Author
After earning her Bachelor of Arts magna cum laude from Loyola University Chicago, Melonie Johnson―aka #thewritinglush―taught high school English and Theatre for several years. An award winning author and a two-time RWA Golden Heart® finalist, she writes smart and funny contemporary romance and moonlights as an audiobook narrator under the pseudonym, Evelyn Eibhlin. She lives happily ever after with her husband, two redheaded daughters, a dog that's more like a small horse, and a pair of hermit crabs. She is the author of the Sometimes in Love series which includes Getting Hot with the Scot and Smitten by the Brit.
Disclosure: I received a digital copy of this book in order to facilitate this review. All opinions expressed are my own.