Straight Uphill: A Tale of Love and Chocolate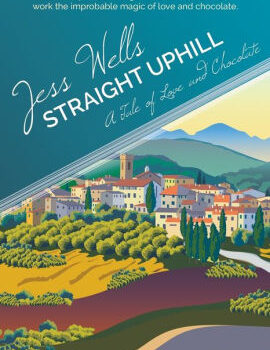 In a hilltop Italian village, women chocolatiers work the improbable magic of love and chocolate.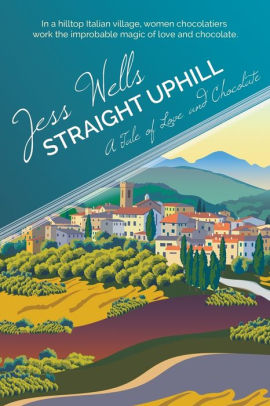 About Straight Uphill: A Tale of Love and Chocolate
After tragedy strikes, brokenhearted Gretchen takes a holiday in a hilltop Italian village to seek peace and solitude. Through chance, she meets Bettina, an elderly woman estranged from her legacy as a chocolatier. Gretchen soon finds herself wrapped in the aromas of chocolate and caramel and butter and wine, as villagers past and present, question all aspects of love that send her on a journey of self-discovery and healing. But will Gretchen truly be able to leave the past behind and open her heart again to life and love, or will she be content to drown her sorrows in chocolate?
My Thoughts
Straight Uphill: A Tale of Love and Chocolate is a story full of loss, suffering, but also hope, love and second chances.
Our novel begins with Gretchen, who has suffered a pain that no parent ever should – the loss of her son. The death of her son has destroyed her marriage, her employment and her mental health. She spends her days in a fog without a sense of purpose or goal. She takes a trip to a small hilltop village in Italy – a remote village full of beauty and a small population. She is not quite sure what she is looking for, but this is just the trip that she needs.
It is here where we uncover a village full of history, promise and hope centred around a story of chocolate. In this small town, Gretchen meets an older woman, Bettina, who owns a bread bakery and is set to lose everything after her son ran away. Something tugs at Gretchen's heart and she finds herself connecting with this woman and this small town in ways she hasn't since she lost her son. We begin to dive into the story of this small village and how Bettina found herself where she was (she didn't always sell bread!). Not only does this help Gretchen, but we find the bakery and the story begins to heal the hearts, mental well being and relationships of others in the small village. We learn about the people in the village, how they have survived over the years through great hardships, war and discrimination.
I found myself ready to cry at times and at other times sharing in the joys of the characters. Life is never perfect, it is a bumpy road full of questions around why do we suffer, why do we lose some people so early and how can people be so cruel. This novel captures life as it is – the raw pain of loss, cruel wars, loss of freedom, discrimination based on gender but also shows the beauty of life – love, hope and people coming together to fight for what is right. I loved every moment of this beautiful novel, I did not want to put it down as I wanted to see how the story evolved and I couldn't help but fall in love with our characters. Our characters are beautiful inside and out, their thoughts, feelings and journey is something that we can all relate to. This is a fantastic read – perfect for book lovers.
You can purchase a copy of this book on Barnes & Noble and Amazon.
Rating: 5/5
About the Author
Jess Wells is the author of five novels and five books of short stories, the recipient of a San Francisco Arts Commission Grant for Literature, a four-time finalist for the national Lambda Literary Award, and a member of the Saints & Sinners Literary Hall of Fame. Her work has appeared in more than three dozen literary journals and anthologies, has been reprinted in England and translated into Italian. She blogs regularly at jesswells.com.
Disclosure: I received a digital copy of this book in order to facilitate this review. All opinions expressed are my own.