#TakeFlight and Soar with the Mini Pop Kids!
Get ready for an incredible live singing and dancing performance from an outstanding group of young children, the Mini Pop Kids!
We were first introduced to the Mini Pop Kids when my eldest was quite a bit younger. They did an amazing job of covering popular songs and making them age appropriate yet still being enjoyable for adults and kids. They originally launched in the 1980s (yes you heard that right) and went on to sell millions of albums worldwide. They relaunched in 2004 and their popularity has continued to soar.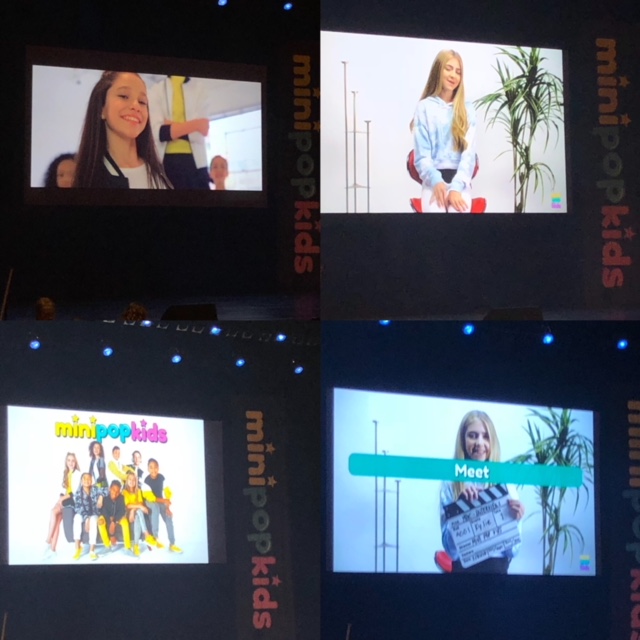 The Mini Pop Kids landed in Hamilton on February 23rd at FirstOntario Concert Hall and they set the place on fire with their energy, fantastic vocals and dance moves. The atmosphere was electric the moment you walked into the hall. Children were dressed up to match their favourite Mini Pop Kids and I have to admit some of those children were quite the little fashionistas! We took several photos in front of the signs marking our very first concert and made sure to pick up a light up microphone. Once we entered the hall roughly thirty minutes before the concert started, we were treated to recordings of the group that had us dancing and singing long before the show started.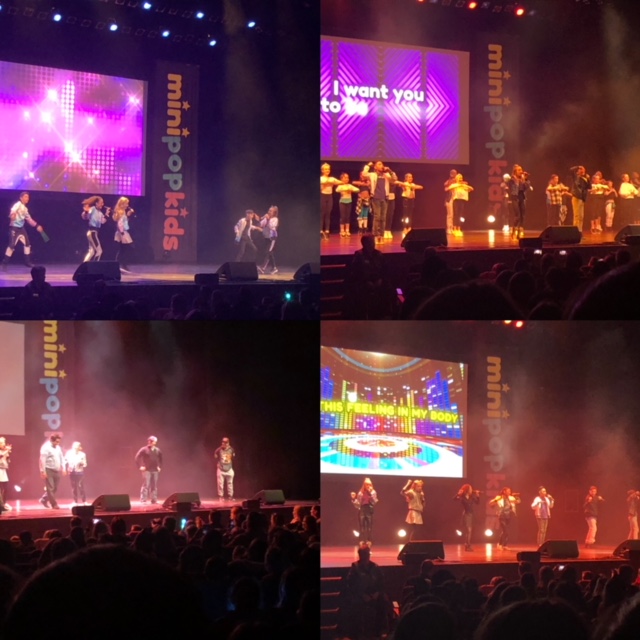 Once the group made their entrance on stage, the audience went wild with excitement. Kids were singing, dancing and screaming. I was embarrassing my youngest with my off tune vocals! The group covered many of the current top hits as well as two of their own original songs, Take Flight and Get Loud. Their Get Loud song is a song that you may have heard before and is associated with the Sick Kids Hospital in Toronto (a place close to my own heart) and a portion of the proceeds from this song goes right back to the Hospital.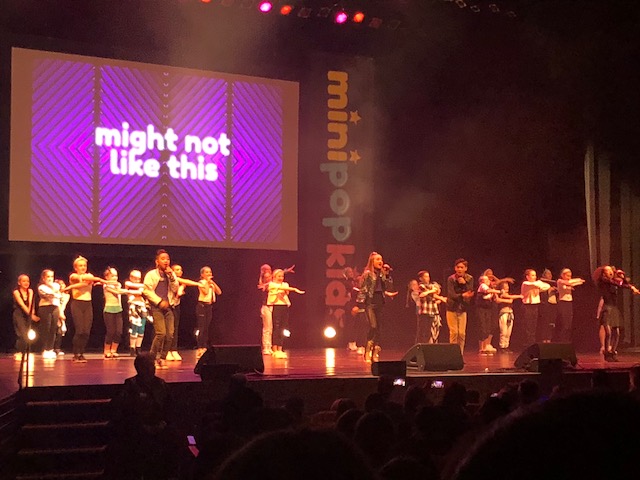 The show was engaging, the vocals were amazing – this group of kids are beyond talented. While the songs were from the top hits, parents will love how well they covered the songs that had a few words that may not have been age appropriate. They also had the words to each song running live on the main screen behind them to help encourage you to sing along, I have to admit I had been singing quite a few of these songs wrong for quite a while! It was so special and heart warming to watch the children dance in their seats, run up to the stage and how warm and responsive the Mini Pop Kids were in coming down to give the kids high fives.
Not only is the group vocally incredible but they are also very talented in dancing. Our son loved the way Kalan danced (he made me record several of his dance moves) and follow him on Instagram so that he could practice his moves. For an extra bit of local love, the group was joined on stage by a local dance group, which I found out later is something they do in each stop. What an special moment for those children and parents – watching them dance along side the group.
Make sure to check to see if the Mini Pop Kids are stopping at a location near you (they have stops until the end of April) here.
Don't forget to give the Mini Pop Kids some love on Facebook, Twitter and Instagram.
Disclosure: We received tickets to see the Mini Pop Kids live. All opinions expressed are my own.