The Menu is a spiritual journey involving a modern-day tale that reaches far beyond the boundaries of reason.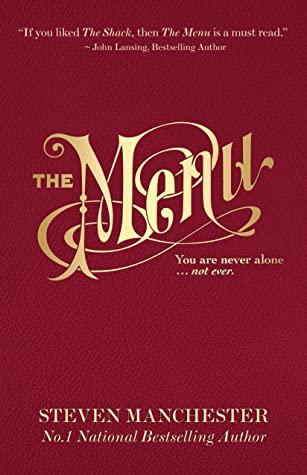 About The Menu
Blessed with a high emotional IQ, Phinn Reed enters the world with the promise of finding his soul mate. With heaven's memories erased, his romantic quest teaches him that the heart often sees clearer than the eyes—and that not everyone has ordered the same items from The Menu. Evidence that love stories come in many different forms, The Menu is a spiritual journey involving more than just a man and a woman; it is a modern-day tale that reaches far beyond the boundaries of reason.
My Thoughts
The Menu is a beautiful story that really touched me, with perfect timing given the situation so many of us find ourselves in right now. Our lives are guided by a series of choices we make and the prices we have to pay for those choices.
This story starts with a very special menu and conversation between Phinn and God. Phinn must make important choices for his own life before starting on his journey but there are a few important things to note – not everyone will make the same choices and there is always a price that comes with each choice. Phinn is a beautiful soul who is troubled at first, he is upset about some of the choices he makes and choices others make that he could not control. He appears to feel lost and is searching for love – he receives some of the best advice from a young boy (don't kids always seem to give the best advice? They have such an honest way of looking at the world around him). It is only when he embraces the advice, that he finds the love and purpose that he was looking for. They share a beautiful love – you laugh and cry reading their story. The end of the novel was not quite what I was expecting but perfect for the story and an excellent reminder that things happen in our lives for a reason.
This is a beautiful story with important messages woven throughout the whole story. Life is a series of choices that we must make, some have great impacts and others become little bumps in our lives that we barely notice. Every choice comes with a price and it was interesting to see it played out the way it was in this story. I also loved the way our characters were tied together in this story, it really drove home that we are never alone. Even in our darkest moments, God is always there if we are able to open up and listen with our hearts and minds. What can be the hardest to deal with in life is that sometimes life throws things that us that hurt us, cause great pain and we struggle to see why this would happen to us but in the grand scheme of things, it has great importance.
The Menu is a beautiful story from start to finish, a definite must read.
You can purchase a copy of this book on Amazon.
Rating: 5/5
About the Author
Steven Manchester is the author of the #1 bestsellers Twelve Months, The Rockin' Chair, Pressed Pennies and Gooseberry Island; the national bestsellers, Ashes, The Changing Season and Three Shoeboxes; the multi-award winning novel, Goodnight Brian; and the beloved holiday podcast drama, The Thursday Night Club. His work has appeared on NBC's Today Show, CBS's The Early Show, CNN's American Morning and BET's Nightly News. Three of Steven's short stories were selected "101 Best" for Chicken Soup for the Soul series. He is a multi-produced playwright, as well as the winner of the 2017 Los Angeles Book Festival and the 2018 New York Book Festival. When not spending time with his beautiful wife, Paula, or their children, this Massachusetts author is promoting his works or writing. Visit: www.StevenManchester.com.
Disclosure: I received a digital copy of this book in order to facilitate this review. All opinions expressed are my own.