Visionaries Book Five of Mud, Rock and Trees Book Review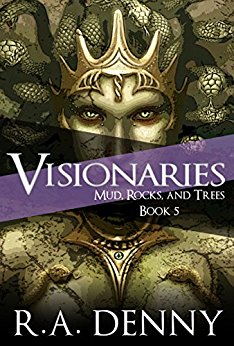 "The only thing keeping that seal around his neck is his head. Heads are easily removed." – Visionaries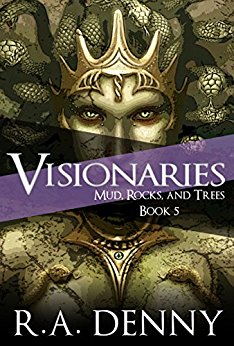 About Visionaries
"The only thing keeping that seal around his neck is his head. Heads are easily removed."
Time is running out. Tzoladia is under siege. Heads will roll.
As the prophecy unfolds, young people dream and old men see visions. Emperor Zoltov's forces move to exterminate the "Subhumans." Risky alliances are formed as Metlan's ambition propels him into places of mystery and murder. Brina and Amanki sail through a sea filled with enchantment and betrayal. Moshoi is dazzled by treasure as he faces the horrors of an evil empire. All forces converge on Tzoladia. Time for a showdown. Will mud, rocks, and trees come together at last?
Who will lose their heads?
My Thoughts
I could not put book five down! Visionaries was full of suspense and action, leaving me craving and needing more.
The capital city is under siege by the "sub-humans" and the Emperor is being forced to make rash decisions. The battle (from book four) seems to have backfired on him – it has created Metlan's new position of power. Metlan has become a key figure in this series and we are left wondering where exactly his place will end up. He has a strong connection to the throne, has made others believe that he has completed great feats and has schemed with strong political alliances to ensure his future. I had originally really liked his character (and thought there could be more between him and Brina) but this book left me wondering about his character and his true actions. It is clear that the Emperor and his past mistakes have come back to haunt him and his time is up.
Our main characters (Amanki, Brina, Moshoi) are so close to finally coming together with the seals but yet are still so far! They have all made it to the capital but just not together and they are still missing one seal that was stolen by Metlan. You can feel the story coming to a climax and it is so exciting! There were several intense moments for Amanki that left you wondering if he would make it out alive but with his wit (and luck?) he finds a way to save himself (and his head!). While he was doubting his role in the beginning of the novel by the end, you can tell why fortune had chosen him to be a leader.
Visionaries is an intense installment in the Mud, Rocks and Trees series! You can almost see the ending in sight for our main characters but are not quite sure how it will end. You will not want to put this novel down.
You can purchase a copy of this book on Amazon.
Rating: 5/5
About the Author
R.A. Denny started writing epic fantasy novels when, after watching the first Hobbit movie, she began excitedly spouting off information about C.S. Lewis and J.R.R. Tolkien's writer's group called the Inklings and how their greatest fantasy novels were created. One of her sons commented, "We could do that." She laughed. Then, he turned it into a challenge.
Her unexpected journey had begun. For several years, she continued her day job as a criminal prosecutor and escaped by night to the world of the Tzoladian Empire. Then, she decided to just do what she loved.
She completed writing her six-book epic fantasy series: Mud, Rocks, and Trees. The series should be read in this order: Refugees, Seekers, Captives, Warriors, Visionaries, and then Deliverers.
R.A. enjoys ancient history, board games, and LEGO. That's the nerd in her. She rides horses, raised flying squirrels and lives with two cats. That's the animal lover in her. Oh, and did I mention that she loves a challenge? That's the adventurer in her.
Disclosure: I received a digital copy of this book in order to facilitate this review. All opinions expressed are my own.