Amazing Athletes: 40 Inspiring Icons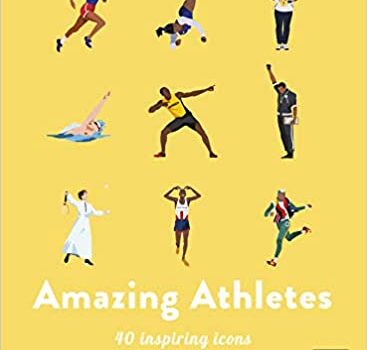 The top 40 Olympic athletes of all time can be found in this book. In this fact-packed book from the 40 Inspiring Icons series, learn how these athletic stars became the best in the world.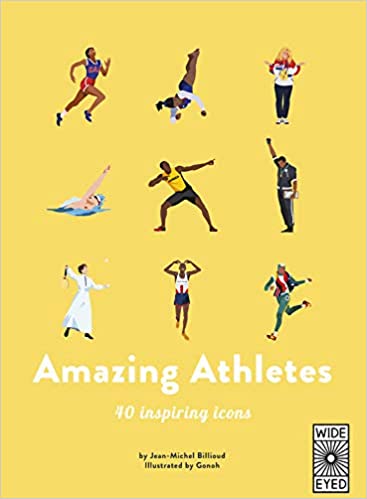 About Amazing Athletes: 40 Inspiring Icons
Relive Usain Bolt's astonishing record-breaking runs, learn about Charlotte Cooper, the first ever female Olympic champion, meet the most decorated Olympic athlete of all time, Michael Phelps, and see some of the most impressive wins in history. From Nawal El Moutawakel, the first female Muslim born on the continent of Africa to become an Olympic champion, to gymnastic prodigy Simone Biles, whose skills on the vault and the floor are admired all over the world.
These are the athletes that you can learn about:
Spyrídon Loúis; Charlotte Cooper; Madge Syers; Jim Thorp; Paavo Nuurmi; Johnny Weissmuller; Mildred Didrickson; Jesse Owens; Marjorie Gestring; Francina Blankers-Koen; Micheline Ostermeyer; Emil Zatopek; Betty Cuthbert; Wilma Rudolph; Abebe Bikila; Tommie Smith; Bob Beamon; Mark Spitz; Nadia Comaneci; Sebastian Coe; Birgit Fisher; Daley Thompson; Nawal El Moutawakil; Carl Lewis; Steve Redgrave; Marie-Jo Pérec; Valentina Vezzali; Michael Johnson; Maria Mutola; Cathy Freeman; Yelena Isinbayeva; Michael Phelps; Tony Estanguet; Usain Bolt; Teddy Riner; Mo Farah; Isabell Werth; Simone Biles; Trisha Zorn; Michael Edgson; Ellie Simmonds; Jonas Jacobsson.
Each book in the 40 Inspiring Icons series introduces readers to a fascinating non-fiction subject through its 40 most famous people or groups. Explore these other great topics through their most interesting icons: People of Peace, Super Scientists, Soccer Stars, Music Legends, Black Music Greats and Greek Gods and Heroes.
Our Thoughts
Our family loves sports – participating, watching and reading, we love it all. We couldn't wait to open up this book to learn more about these forty inspiring athletes – their history and what they accomplished. We were surprised that we actually didn't know as many as we thought we would have especially once we read their stories and how much they accomplished.
Each athlete has two pages dedicated to them, with one large image of the athlete, their biography, medals, record, what made them famous and some really neat facts about them. The book was easy for us to read together and for a child to read on their own. We loved learning about the athletes past and the facts that were included about them. We were amazed at how female athletes like Charlotte Copper competed in tennis matches in a long dress (the coordination they would have needed to move around in that dress would have been such a feat). Or how Jim Thorpe competed in the Olympics wearing mismatched shoes. Or how Abebe Bikila won the marathon for the second time at the Tokyo Olympics six weeks after having his appendix removed! Or how Trischa Zorn competed in her first Games at the age of 16 and her last at the ago of 40.
These incredible athletes having an amazing story to tell – some who overcame a lot to get to where they were, some who others did not believe in but they never let this stop their dream and others who championed for human rights. We learned so much while reading this book together but most importantly we learned the power of never giving up, believing in yourself and your talent (talent wins out over that expensive gear!). Their stories inspire our youth to go after their dreams and to stand up for what you believe in. A definite must read for young children and athletes!
You can purchase a copy of this book on Amazon.
About the Author
Jean-Michel Billioud studied at the Institut Français de Presse and the Ecole des Hautes Etudes en Sciences Sociales. He has since published a hundred non-fiction books on various themes with two obsessions: explaining things as simply as possible and rescuing from oblivion what time wants to erase. He lives in France.
About the Illustrator
Gonoh is a French illustrator based in Paris. He studied illustration and worked as a graphic designer in different agencies before turning exclusively to illustration. He has worked with Decathlon, ADP, BNP Paribas, Télérama, and Brasserie La Parisienne.
Disclosure: I received a copy of this book in order to facilitate this review. All opinions expressed are my own.