Calm your worries and build your bravery — or relax during a busy day or wind down before bed.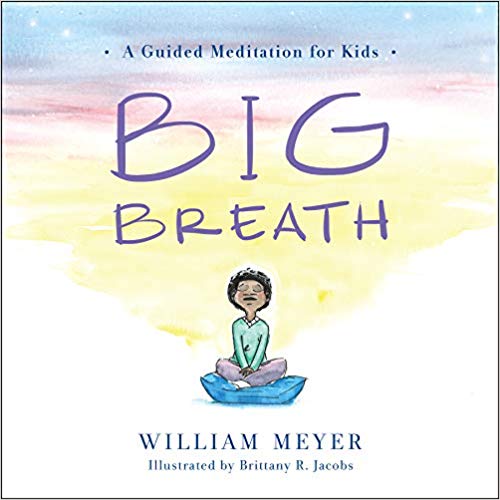 About Big Breath
All day long, you breathe — in and out, in and out — without even thinking about it. But did you know that you can play with your breath, use it to take you on an adventure? All you have to do is find a comfy spot and close your eyes.
Does your breath sound like ocean waves? Like the wind before a storm or a breeze at the start of spring? Can you feel it all the way down to the tips of your toes? By the time you open your eyes, you might just feel a little lighter, calmer, more relaxed.
Our Thoughts
I did not start mediating until I began yoga roughly four years ago. I remember being in my first yoga class and unable to truly unwind and relax enough in order to be present in the moment. It was in that moment that I realized I was letting life take over, I was not present, I was stressed out and not appreciating the tiny moments. It took a lot of practice but eventually I was able to learn how to breathe properly, how to turn my mind off and be present in the moment. This is a skill that I can not stress enough – life is too hectic and busy to not know how to calm the mind. It can be done anywhere, at any time when needed.
This book is beautifully written and illustrated. I read it alone at first and I loved the calming tone of the words. It felt natural, easy to follow, easy to read and fell in a natural progression. I was so excited to practice it with our youngest, who participates in mediation at school but it is not something we do at home on a regular basis. If I am being honest, this is mostly because I don't know how to help him through the process.
After work and soccer practice, we found a quiet space in our basement and sat across from each other. I read the book aloud to him, slowly and with purpose – giving him the time he needed to follow the directions. We did this without any noise but I do remember how much I loved listening to my class instructor walk me through a guided meditation with the sounds of nature in the background. If you think this would be distracting for your child, this may not be the best idea but if you think it will help – go for it.
This book was incredibly helpful for me as a parent, it helped give me the skills and words to use to help my child through his meditation. He found it relaxing and helped calm his mind and focus. It also helped bring us closer together, as we spoke about his day and his feelings. This is a definite must have book for parents and their children as we look for ways to bring calm and clarity in a rather crazy busy world!
You can purchase a copy of this book here.
About the Author
William Meyer is a high school teacher, longtime meditator, and author. The author of the newly released Three Breaths and Begin: A Guide to Meditation in the Classroom, he is currently working to augment his MA in education from Harvard with a PhD from NYU. He lives in Mamaroneck, New York.
About the Illustrator
Brittany R. Jacobs is a librarian and the author-illustrator of The Kraken's Rules for Making Friends and other children's books. She lives in Westminster, Colorado.
Disclosure: I received a copy of this book in order to facilitate this review. All opinions expressed are my own.