Calm Mindfulness for Kids Book Review

Calm: Mindfulness for Kids shows that supporting a child's positive mental health doesn't need to be expensive, time-consuming, or difficult. Activities help children to de-stress, focus, and get moving while having fun.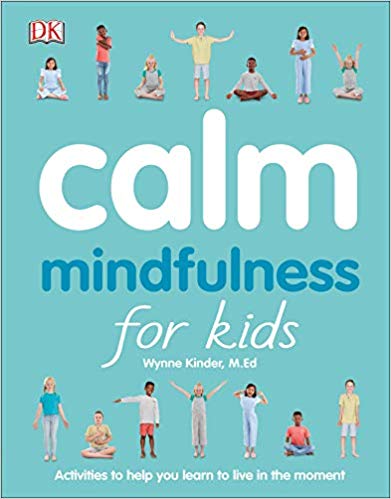 About Calm Mindfulness for Kids
Teach your kids how to focus their thoughts and notice the world around them with this fun mindfulness kids activity book.
Mindfulness activities are a great way to teach children about their thoughts and feelings and how to understand them–while having fun at the same time.
This book is packed with activities–make a mindfulness jar, learn how to appreciate food with mindful eating, and get out into nature and explore the outside world. An illustrated journal section at the back of the book encourages children to make notes about their own thoughts and feelings.
Calm: Mindfulness for Kids has everything you need to know about focusing your child's mind to help them enjoy and appreciate things that they take for granted every day, while boosting their confidence and self-esteem. Children are guided through each activity, to make sure they achieve maximum enjoyment and awareness. All children will learn and react to each activity in a different way and parent's notes give advice on how to encourage children to embrace mindfulness in the modern world. Each specially designed activity is flexible for each child's needs and inspires them to seek calmness and tranquility in all situations.
Our Thoughts
Mindfulness is something we hear a lot about in the news, media and research. It is an important to tool in the busy times we live in. It helps us to focus, pay attention and remain present in the moment.
Sometimes, children can be overlooked and brushed off as being too emotional or acting out. Children feel a lot of emotions but many don't have the tools to help them understand their feelings and how to process them. We need to teach our kids these skills in order to be successful later in life.
What I really liked is this book is geared towards children. She writes to the child first – you as a parent can read a long and help but the child is the most important part in this book. She speaks to the child in a mature, open and caring manner that encourages your child to open up, read more and try each activity presented.
She presents six chapters and encourages your child to move through them in any order they need – the choice is up to them. The chapters include: focus, calm, move, change, care and reflect. Each chapter has activities, crafts and exercises that they can do alone or with a parent or a friend. Each section has helpful tools to encourage your child to reflect on the activity, exercise or craft – this helps to reinforce the learning process. We started with rainbow breath and unwind stress – these were also amazing for Mom too! Our next craft to try is energy slime!
This is an extremely thoughtful book for children of all ages to help them get in touch with their emotions, feelings and body and encourage a positive outlet for them.
You can purchase a copy of this book on Amazon and Indigo.
Disclosure: I received a copy of this book in order to facilitate this review. All opinions expressed are my own.