CHIHULY Toronto: A Magical World of Glass and Imagination
The CHIHULY exhibit at the Royal Ontario Museum in Toronto is an amazing display of creativity, passion and allows you to see the world through a whole different perspective. This exhibit, which runs from June 2016 to January 8th, 2017, features the work of internationally acclaimed artist Dale Chihuly. He uses glass, light and colour to bring his art to life.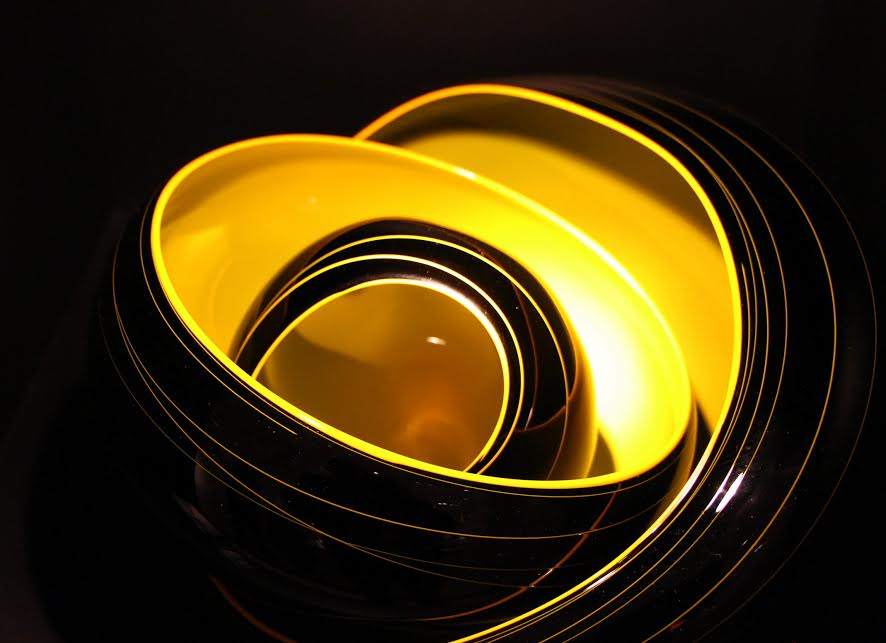 The exhibit at the ROM features several works that were designed specifically for the museum by Dale in order to fit the space, which gives it that extra special feel when you are walking through the exhibit. The exhibit features eleven installations that includes: Lime Crystal Tower, Boats, Laguna Torcello, Jerusalem Cylinders, Sapphire Neon Tumbleweeds, Red Reeds on Logs, Persian Ceiling, Persian Trellis, Fire Orange Baskets, Icicle Chandeliers and Towers and the Northwest Room.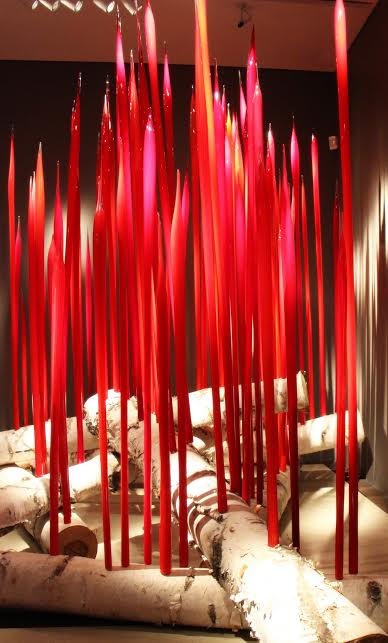 My personal favourite work was the Red Reeds on Logs. You find logs laid out as they would be in nature with brilliant, bold glass red reeds reaching to the ceiling bursting forward from the logs. You can almost see this exhibit as it would look like in nature and the contrast between the logs, red reeds and the dark backdrop is breath taking, I just fell in love at first sight. My sons also loved this one too but mainly because they thought that the reeds were actually spears (our youngest is still convinced they are spears not reeds). This piece of work was first created in 1995 and I was so impressed by the fact that in order to create the almost three metre long reeds, the glassblowers pulled hot molten glass downwards from a mechanical lift!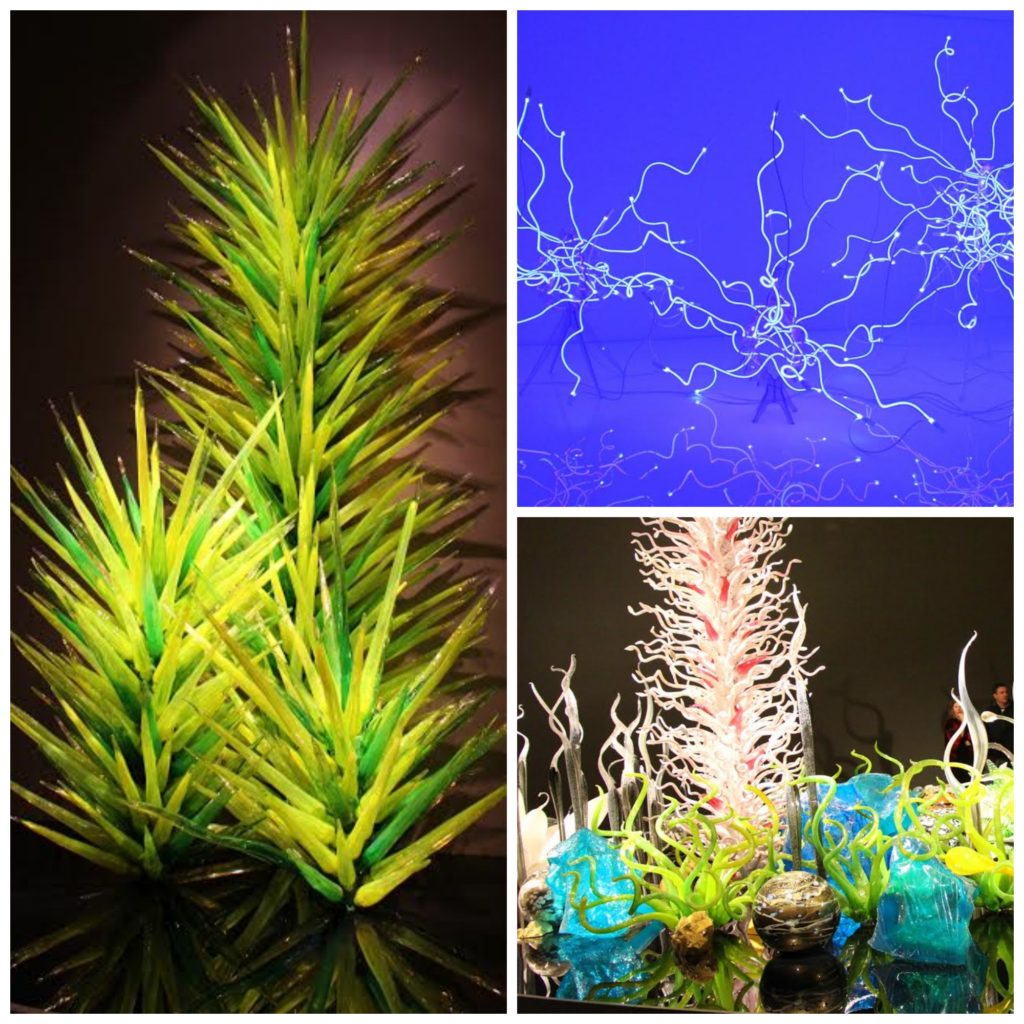 The exhibit is in dim lighting (I wasn't expecting this) which really helps to bring his work in focus and to the fore front (it really would not be the same with full lighting). The bright glass just pops in contrast to the dark background and really puts the focus on his work and not allowing for any distractions. You can stroll from one room to the next room at your own pace, go back to a piece and even at one point lay down on the couches on the floor and look up (trust me you have to do this!). There is also a great video presentation at the end of the exhibit that I highly recommend you take a couple minutes out of your day and view it, you will be thoroughly impressed.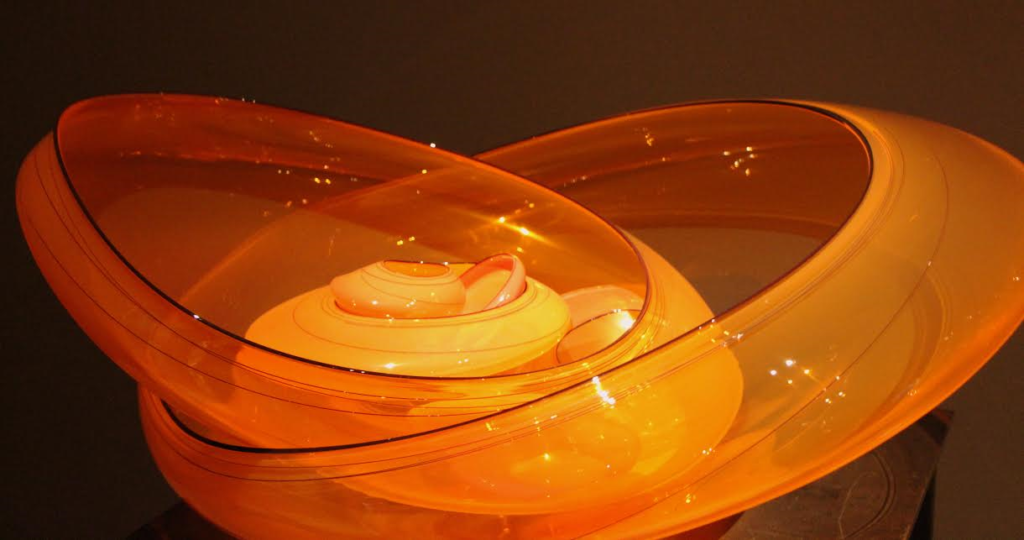 We all fell in love with the abundance of baskets that are located throughout the exhibit. They are stunning in their design, shape and colour. It brought back great memories for me when I visited Venice and watched glass blowing in action. The amount of skill and patience needed to create these works of art is incredible. The design makes you just want to reach out and trace the edges and feel his work.
ROM CHIHULY Quick Facts
This exhibit is open Monday to Thursday 10:00am- 5:30pm, Fridays 10:0am to 8:30pm, Saturday and Sunday 10:00am to 5:30pm. Admission is free for Museum members, $29.00 for adults, $21.00 for children and free for children under three years of age. Tickets can be purchased online, in person or by phone.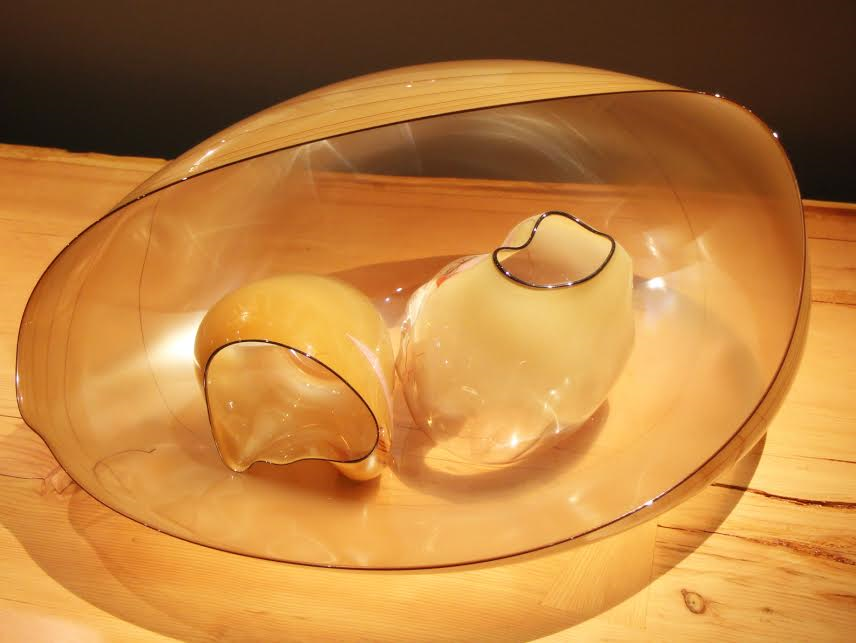 About the Artist
Dale Chihuly is an American sculptor who has mastered the alluring, transparent qualities of ice, water, glass and neon, to create works of art that transform the viewer experience. He is globally renowned for his ambitious site specific installations in public spaces and in exhibitions presented in musuems and gardens worldwide. Major exhibitions include Chihuly Over Venice (1995-96), Chihuly in the Light of Jerusalem (1999), Garden Cycle (2001 – present), de Young Museum in San Francisco (2008), the Museum of Fine Arts Boston (2011), Montreal Museum of Fine Arts (2013) and the Chihuly Garden and Glass at Seattle Center that opened in 2012.
If you are in Toronto before the exhibit ends on January 8th, 2017, I highly recommend you take some time out of your trip and pay a visit to the CHIHULY exhibit at the ROM. It is a breath taking display of light and design that you can't help but fall in love with.
Disclosure: I received tickets to view this exhibit. All opinions expressed are my own.