Journey Through Time with DK Canada The History Book

The History Book makes 4,000 years of history accessible and provides enlightenment on the forces that shaped the world as we know it today.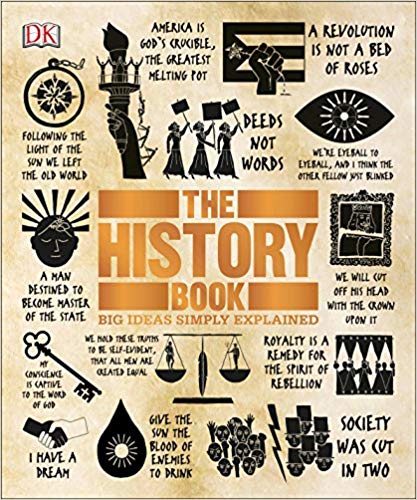 About The History Book
The History Book is a journey through the most significant events in history and the big ideas behind each one, from the dawn of civilization to the lightning-paced culture of today. One hundred crystal-clear articles explore the Law Code of Hammurabi, the Renaissance, the American Revolution, World War II, and more, bringing the events and people of history to life.
As part of DK's award-winning Big Ideas Simply Explained series, The History Book uses infographics and images to explain key ideas and themes. Biographies of key leaders, thinkers, and warriors, from Julius Caesar to Barack Obama, offer insight into their lives and further historical insight into these world-changing episodes. Perfect for a student or armchair historian, the clear explanations of ideologies behind events that have shaped our world into what it is today.
My Thoughts
One of the reasons I love history so much is that I love to see what makes people think, why and how we have evolved in our cultures and how we have come to where we are today. Each step through history gives us insight and is fascinating.
This incredible hard cover book covers 4000 years of history in a creative, interesting and engaging manner. While packed full of information, timelines and some photos, it in no manner leaves you feeling overwhelmed or wanting to give up. The book follows a natural progression that encourages you to dig deeper and helps to bring these civilizations to life.
The book is organized into different sections that includes: Human Origins, Ancient Civilizations, Medieval World, Early Modern Era, Changing Societies and The Modern World. You can read the book in order or skip ahead to your favourite time period (I am a personal fan of the Medieval time period!).
What I found really unique and that I enjoyed, is this book contains many well known and less well known quotes (George Washington, William Sherman, Thomas Fowell Buxton and many more). It also utilizes page flow, boxes and arrows to explain how certain actions affected the land and people.
This is great read for young adults and adults alike who love to learn about the world and people around them and those who came before us. It is an excellent stepping stone to further their education and broaden their knowledge around events that changed society.
You can purchase a copy of this book on Amazon and Indigo.
Disclosure: I received a copy of this book in order to facilitate this review. All opinions expressed are my own.