Mark of the Medallion Book Review
Mark of the Medallion is the spellbinding first novel in The Wizard Academies YA fantasy series. If you like sword and sorcery, enchanted adventures, and suspenseful coming-of-age stories, then you'll love Mike Shelton's action-packed tale.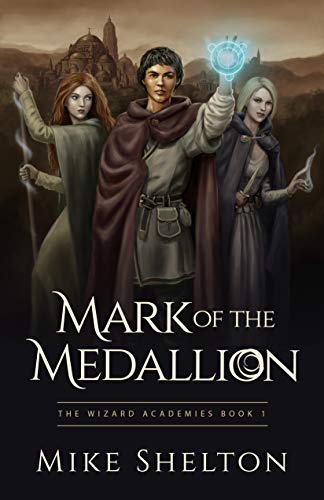 About Mark of the Medallion
Fifteen-year-old apprentice Kyril is sick of being bullied. And after a tragic fire leaves him orphaned with out-of-control thoughts and powers, he can't wait to escape constant taunting at the wizard academy. So when a dicey faction entices him with companionship, he ignores the grim warning signs.
Even as Kyril's power grows within the group, he's left out of the crew's dangerous plans to derail the authorities. And when being accepted comes at the expense of making questionable choices, he fears his newfound friendships aren't worth the deadly price.
Can Kyril master his new magic before his shady companions send him to his doom?
My Thoughts
I love reading about magic, and this book delivers magic, an excellent plot and incredible characters, making it a great read for young adults and adults alike.
Kyril comes from a poor family and was orphaned at a young age. He is alone in the world and others make him feel worse about his position in life. He is bullied for many reasons, and like most victims none of it is deserved. He would do anything for a friend, to be appreciated and to feel power.
Something strange begins to happen at their academy, people are acting out of character, doing things they shouldn't be doing. Kyril is one of these individuals – and is gaining power at great leaps and bounds. These powers don't go unnoticed and soon he is brought into the folds of a powerful group who have ulterior motives for him. Because of his past, he doesn't realize he is being used and begins to behave and act in ways he never would have before. The plot that begins to unravel has many dark turns and unexpected twists, keeping you on the edge of your seat through the entire read.
Mark of the Medallion is very well written with an excellent plot that develops at a great pace. You are never left feeling lost or as though you are missing information. Mike introduces each character and gives you the right amount of information to understand their magical powers and how the characters are connected. I loved the plot – it was not what I was expecting and kept me engaged. The book is geared toward young adults but I loved every moment. A fantastic read from start to finish!
You can purchase a copy of this book on Amazon.
Rating: 4.5/5
About the Author
Mike is now on his fourth YA fantasy series. For information on his new releases, book reviews, and other relevant info, please join him at www.MichaelSheltonBooks.com.
Mike was born in California and has lived in multiple states from the west coast to the east coast. He cannot remember a time when he wasn't reading a book. At school, home, on vacation, at work at lunch time, and yes even a few pages in the car (at times when he just couldn't put that great book down).
Other than reading, Mike enjoys the outdoors, disc golf, and spending time with his family. He has worked in corporate finance for most of his career, publishing his first books in 2016. He has now published 15 YA fantasy books full of adventure, magic, and wizards!
Disclosure: I received a digital copy of this book in order to facilitate this review. All opinions expressed are my own.