Play With Art Book Review

Kids can get hands on and creative with this fantastic resource book from DK Canada: Play With Art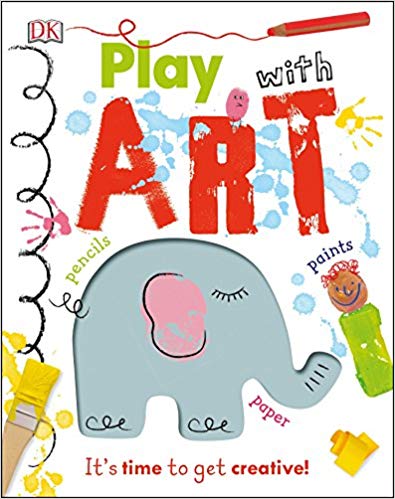 About Play With Art
The perfect starting point for teaching your little one about all types of art, delve into more than 50 fun art projects for kids. From handprinting and sponge painting to mapmaking and origami animals, this is the perfect book for a little learner starting on their art journey. Play with Art is simple, fun, and it's packed with fun and creative hands-on activities to share and enjoy. This is a perfect addition to any classroom's STEAM (Science, Technology, Engineering, Arts, and Mathematics) library or home book collection.
Our Thoughts
Little ones love to get their hands dirty and explore the world around them and as parents we should encourage this. Art is so important in a child's development – both my boys were in their highchairs painting by the age of one. They learn important fine motor skills that are crucial as they head off to school when they paint, colour and scribble. They learn to be creative and to use their imagination – skills that are not so easily taught in a classroom.
This beautiful, age appropriate hard cover book explores how to play with art. And yes – play with art because we should be encouraging young minds to play and have fun with their creations. Art is all about expression and perfection is in the eye of the beholder.
This book explores the following topics: painting and printing, paper crafts, drawing and colouring and making and creating. In painting and printing, we learn how to mix up colours, how to use different tools to create different effects – we even learn how to use fruit to create art. When my boys were young, finger painting and hand painting were by far their most favourite and they were also the best keepsakes I have of this time period. I have several containers full of their hand art and a few hanging on my walls. In the paper craft section, we learn some very important skills for young hands – folding and cutting. While I know this may seem silly, trust me these are very important skills that a child should learn at a young age (you may have to assist them with the cutting for safety reasons but this is ever so important for them to learn on their own). We also learn how to make stain glass (my personal favourite crafts for every season to hang up) and shadow puppets. We even learn how to turn ordinary household items into art (unleash that creative potential!).
This is a great resource for parents to help their child develop important artistic and fine motor skills in their early years (not to mention a lifesaver on school holidays and closures!). In bright colours, kid friendly font and large photos – your child explores their creative side using items commonly found in your home. Get ready to explore, get dirty and have fun with Play with Art!
You can purchase a copy of this book on Amazon and Indigo.
Disclosure: I received a copy of this book in order to facilitate this review. All opinions expressed are my own.