Search for the Medallion Book Review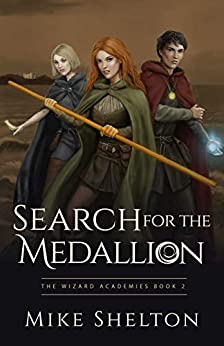 Search for the Medallion is the thrilling second novel in The Wizard Academies YA fantasy series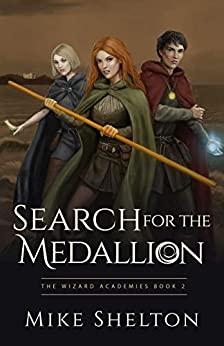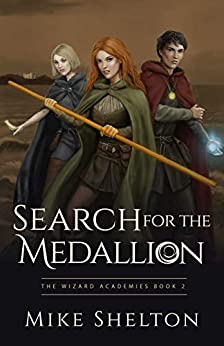 About Search for the Medallion
As a wizard of the heart, Joelle is a skillful healer, but it may be her fighting skills that are needed in the search for the next medallion.
Every step of the way it seems that evil is always one step ahead of them sowing chaos in the northern kingdoms.
It seems no one can be trusted.
Search for the Medallion is the thrilling second novel in The Wizard Academies YA fantasy series. If you like sword and sorcery, enchanted adventures, and suspenseful coming-of-age stories, then you'll love Mike Shelton's action-packed tale.
My Thoughts
This novel is book two in a series of books that focuses on three wizards, the wizard community and the battle between good and evil. While I recommend reading book one to gain a deeper understanding of the evil they face, you will not be lost if you pick up at book two.
In this series, we have three young wizards who have been thrown into a battle of life and death, all centred around a quest to find the remaining two medallions to return peace to the lands. The medallions hold special powers that enhance the power of a wizard. The first medallion has been entrusted to the most unlikely hero but one who is quite deserving. They were chosen because of their strength of heart, determination, compassion and empathy. They quickly learned in book one that they can trust no one. In this book, this theme hits home strongly as many people are not quite what they seem due to evil magic. Despite this, they face each of their struggles with courage and humour.
I loved this novel – the characters are well developed and face such great challenges with strength, dignity and even a bit of humour. This is a great feat considering their young age and the responsibility that has been placed in their hands, while they also deal with common young adult problems (the magic of a first kiss?!). We are even introduced to new characters in this novel in the form of mythical creatures. I love the plot, it is unique to this story and keeps you on your toes. It develops at a great pace and you never want to put the book down because you have to know what happens next. This is an excellent novel for young adults and adults alike.
You can purchase a copy of this book on Amazon.
Rating: 4.5/5
About the Author
Mike is now on his fourth YA fantasy series. For information on his new releases, book reviews, and other relevant info, please join him at www.MichaelSheltonBooks.com.
Mike was born in California and has lived in multiple states from the west coast to the east coast. He cannot remember a time when he wasn't reading a book. At school, home, on vacation, at work at lunch time, and yes even a few pages in the car (at times when he just couldn't put that great book down).
Other than reading, Mike enjoys the outdoors, disc golf, and spending time with his family. He has worked in corporate finance for most of his career, publishing his first books in 2016. He has now published 15 YA fantasy books full of adventure, magic, and wizards!
Disclosure: I received a digital copy of this book in order to facilitate this review. All opinions expressed are my own.