Explore the Wild Animal Kingdom with DKfindout! – Small Books with Big Ideas

Do you have a young child who loves the animal world? Who loves to explore and learn new facts?
Then DKfindout! is the perfect series for you! These soft cover books are a great resource to children, introducing them a range of topics in a fun and engaging manner.
About DKfindout! Big Cats
This children's animal book has everything you'll need to know about big cats, including lions, tigers, jaguars, leopards, and cheetahs.
Find out how big cats hunt, learn about cat myths and legends, discover where they live, and how they move. Packed with information, photographs, and colorful illustrations, DK findout! Big Cats is the ultimate kids cat book.
You can purchase a copy of this book on Amazon and Indigo.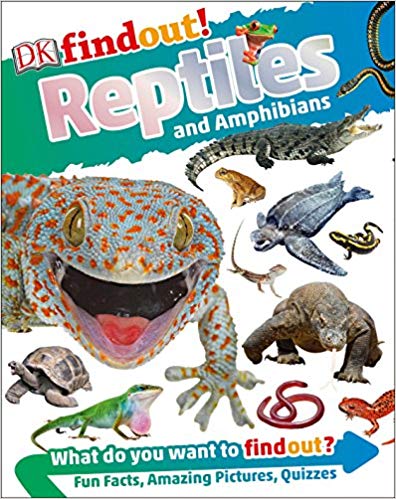 About DKfindout! Reptiles and Amphibians
Discover wriggling reptiles, colorful chameleons, slithering snakes, and extreme environments with this exciting book full of amazing images, fun quizzes, and incredible information.
Did you know that Komodo dragons can spit venom at their enemies? Can you spot the difference between crocodile and iguana scales? In DK findout! Reptiles and Amphibians, amazing photos show these cold-blooded animals in incredible detail, while fun, kid-friendly text makes it easy to absorb key facts about life cycles, habitats, and what they eat.
You can purchase a copy of this book on Amazon and Indigo.
Our Thoughts
There is no better gift to give your child then learning. I love supporting them to dive deeper into subject areas that they love. Animals are one of the most popular topics in our house. We love learning about their habits, special traits and facts.
The DKfindout! books dive into these topics in a fun and age appropriate manner. We are given just the right amount of information on each page to keep both child and adult engaged and learning. The visual cues and graphics on each page help guide you through the topics. We loved the bold, bright images that helped to bring the animals and their stories to life.
One of the best features (and I love this part as it reinforces all of the learning we are doing) is the accompanying website with a wealth of resources, quizzes, videos and more! Not only can you find additional resources on the books you have been reading but also a wide range of additional topics (body, math, science, language, etc..) It is a one stop shop for parents and children!
We enjoyed our daily reading with these books over the March Break and can't wait to discover more in this exciting series!
Disclosure: I received copies of these books in order to facilitate this review. All opinions expressed are my own.