Flavorbomb: A Rogue Guide to Making Everything Taste Better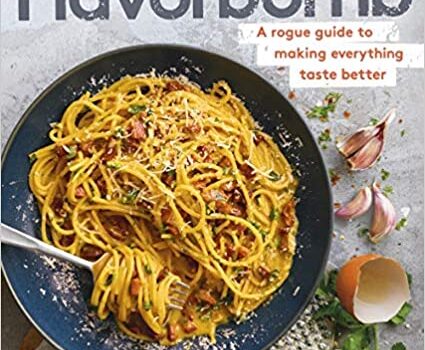 If you live for wildly addictive Sensations that knock you off your feet, but can't figure out how to make them at home, you have just found your kindred cookbook spirit. Welcome to Flavorbomb.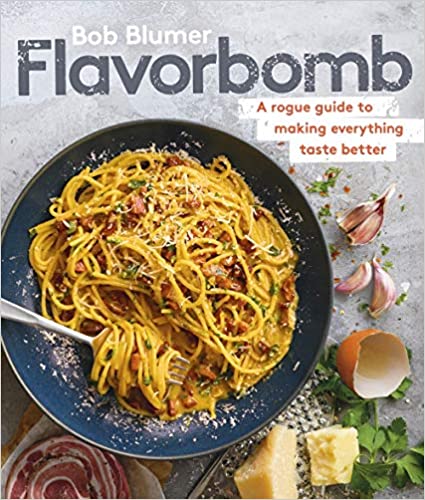 About Flavorbomb: A Rogue Guide to Making Everything Taste Better
You keep a running list of restaurants you go to for your favorite flavorbombs–a vibrant, pungent Caesar salad, extra crispy garlic fries, or a spicy puttanesca pasta maybe. You might even be able to articulate exactly what it is about those dishes that you find so addictive. But when you try to reproduce the same flavors at home, you find yourself falling short. If any of the above sounds familiar, this book is for you.
For the past 25 years Bob Blumer has eaten his way around the globe, traveling millions of miles in search of culinary adventures and inspiring foods for three TV series and six cookbooks. Along the way, he's broken eight food-related Guinness World Records, competed in some of the most outrageous food competitions on the planet, cooked alongside countless amazing chefs, and sampled every local street food imaginable at ramshackle carts, hawker stalls, and night markets from Italy to India. These collective experiences have formed the backbone of Bob's cooking in ways that culinary school can't begin to teach. In Flavorbomb he channels everything he has gleaned into recipes and practical tips to help you you create bold, stimulating flavors, that will leave those you cook for in a state of bliss. Prepare to become a rock star in your own kitchen.
The first half of the book is the real "money." It's full of tips, strategies, ingredients, techniques, and gear that will help you crack the code–and gain the confidence to take the leap on your own and turn any dish into a flavorbomb. We're talking developing the courage to season with wild abandon, brown your food to within an inch of its life, double down on the ingredients that can increase the pleasure factor, and taste and adjust on the fly.
The second half consists of 75 step-by-step recipes that use all the tricks in your arsenal to deliver the addictive, life-affirming dishes we all crave. And because Bob gets more excited by tacos than truffles, his outsider approach to creating addictive flavors won't require you to buy frivolous top-shelf ingredients or use super-sophisticated techniques. Instead, every recipe starts by building the foundation, and then adding layers of flavors and textures at every step of the way. If there's a hack or a simple trick that can save you time or up the ante–it's in here. Every recipe was thoroughly tested and had to earn its place in the book.
My Thoughts
I love to cook but can admit that I am not always the best cook. I will try to re-create some of my favourite dishes from my youth or from our favourite restaurants but they always fall up a bit short. I am always missing that little bit of something or maybe I am a bit too afraid to try something different without following directions. This book encourages you to do that – develop the knowledge that leads to the courage to season, brown and use ingredients that explore in flavour.
While most recipe books provide a few pages of what you will need, ingredients and tools, I have never felt that it was enough. This book provides you with a comprehensive guide – almost eighty three pages of knowledge to guide you on this cooking journey. I had a good laugh when I came to the flavour building blocks (one that I cannot share with my husband). We constantly fight over how much salt he puts in food, so I stopped cooking with salt about two years ago. Salt is listed in the book as one of the ingredients that matter the most! It seems my concern over my husband's arteries may have impacted my own cooking. All joking aside, you are provided with many tips and tricks to help get the taste and how to adjust taste with spices, acidity, and heat. Some you may know and others you likely will not. You are also provided with the techniques needed to achieve that amazing taste, how to caramelize in a pan, how to braise, deglaze and so much more.
One of my favourite parts in this section is:
"Season with strength and purpose. Suppress your inner voice of restraint. Trust yourself to mix, match and substitute ingredients" – Flavorbomb
You are given the trust and inspiration to not just follow a recipe but to own it and make it your own. You have all the tricks and tips that you need to make dishes full of flavour.
The recipes that are included in the second half of the book are divine, and include drool worthy pictures that will make your stomach rumble. We didn't even know where to start because they all looked so delicious! We started simple (for us) with the puttanesca pasta. The recipe was easy to follow, we had everything already that we would need (apart from the olives) already in the house. We had no problems following the instructions and I loved how we learned how the ingredients added to the different taste – anchovy oil, harissa, aged balsamic vinegar and even the fried breadcrumbs.
Flavorbomb is the perfect gift for the cook in your life or even the more timid cook that wants to learn more but may be afraid. The book is full of encouragement to explore, learn and gain the trust you need to create extraordinary dishes at home that everyone will love.
You can purchase a copy of this book on Amazon.
About the Author
Gastronaut, author, artist and eight-time Guinness World Record holder BOB BLUMER is best known as the creator and host of Food Network's award-winning shows Surreal Gourmet and Glutton for Punishment. In his six cookbooks and appearances around the globe, Bob transforms ordinary ingredients into wow-inspiring dishes. Bob is an ambassador for Second Harvest in Toronto, and Love Food, Hate Waste, a national zero-waste initiative. He lives in Los Angeles, with his wife, under the D of the Hollywood sign.
Disclosure: I received a copy of this book in order to facilitate this review. All opinions expressed are my own.