Grinza's Orchard: An Enchanted Tale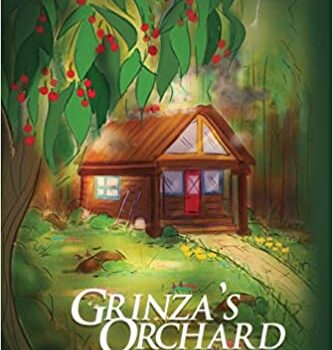 Grinza's Orchard is the story of a Gypsy girl growing up in the early 1900's in Romania.
About Grinza's Orchard: An Enchanted Tale
At five years old she is gifted her own cherry tree and it becomes the centerpiece of the story as she grows up dreaming of one day having her own full-blown cherry orchard. To deal with some of the problems that she faces such as an unwanted boy who is attracted to her, a terribly hard decision she has to make to save her parents from illness during the coldest winter on record in their village, achieving her life's dream of having her own cherry orchard and then suddenly losing it, she seeks help with visits to the witch Auntie Angelina and the Guru Sylvanus, who lives in a cave atop a nearby mountain. The story follows Grinza, her husband Clopin, and their children's lives in the small gypsy village of Cojasca.
Our Thoughts
Grinza's Orchard follows the story of Grinza – a lovely, gifted young woman with the kindest of hearts. Grinza belongs to a Romanian gypsy family – we learn about their culture and a little bit about their past. I found this quite interesting as I had no idea how poorly they were treated, including the fact that many were slaves until the mid 1800s.
Grinza loves her family and would do anything for them, and this love and compassion is recognized by the elders (and magical) of her community. She is blessed with a cherry tree and this tree becomes a very special part of her life as she builds her life around it. As she becomes a young woman, she looks to build her life with a husband – and when she finds the man that makes her happy almost every one is happy for her. Except for another young man with a cruel heart who wanted Grinza for himself. When she turns him down, this marks the start of many trials for Grinza and Clopin (and their children in the future) as he does anything that he can to hurt Grinza. Despite this, Grinza faces each obstacle with faith and kindness.
This was a beautiful, short story for young adults and readers. It had an easy pace to the story, which may make it easier for younger readers to follow along with. I really enjoyed the splashes of culture and beliefs we were exposed to during the story (during the wedding ceremony, the passing down of readings between women, etc..) as I find that they encourage me to do additional research to learn more. Grinza is a beautiful soul whom you just can't help but love and root for throughout the story. It was a heart warming story from start to finish, providing fantastic lessons around friendship, family and life in an age appropriate manner for young adults.
You can purchase a copy of this book on Amazon.
Rating: 4/5
About the Author
Leonard Eckhaus is the founder of AFCOM, the leading association in the world for data center managers.His comments and opinions have appeared in such publications as The New York Times, U.S. News & World Report, The Washington Post and The Wall Street Journal.Mr. Eckhaus is also one of the founders of LL MUSIC LLC. The first album he produced, "Rendezvous", received two Grammy nominations in 2018.
Disclosure: I received a copy of this book in order to facilitate this review. All opinions expressed are my own.