One Eagle Soaring Book Review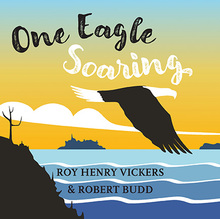 One Eagle Soaring explores counting and numbers with the help of beautiful West Coast animals.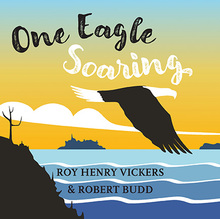 About One Eagle Soaring A First West Coast Book
Following on the success of their bestselling board book Hello Humpback!, award-winning authors Roy Henry Vickers and Robert Budd are back with One Eagle Soaring, the second edition in their exciting new series, First West Coast Books.
One Eagle Soaring is a "first numbers" book and explores counting and numbers with the help of West Coast animals—from a single eagle aloft, to a pair of swimming whales, as well as leaping frogs, honey-hungry bears and a group of ten dozing marmots.
This book combines Roy Henry Vickers' vivid illustrations, a glossy tactile finish and a simple yet catchy text. The sturdy board book introduces babies and toddlers to the spectacular scenery and wildlife of British Columbia.
My Thoughts
This is an absolutely stunning hard cover book geared towards your toddler but that even a preschool aged child will love.
This beautiful book features ten West Coast animals set in a beautiful back drop. Each number and animal spans two pages of this book that is roughly the size of your hand in a square shape. The animals are bold and bright, featured in either black or colour. The animals are lightly textured in designs that are unique to the West Coast (we loved running our hands over the patterns). The background imagery is done in a complementary colour scheme that really helps the images pop out of the page (I loved the sea-lion page with bold blues and yellows!).
The wording itself is easy to read and geared well to this age group. It also gave us an opportunity to make up a bit of the story, for example when it was written two moose wander by – we asked where were they going, what did they see? It was easy to get silly or serious and even ask further questions to learn more about these animals.
One Eagle Soaring is an incredible and beautiful book featuring the beauty of the West Coast. I loved that it celebrates the breathtaking nature of the West Coast – it is always refreshing to find a book that features Canadian themes! It will make for a wonderful baby shower or first birthday gift and an excellent addition to your young child's home library.
You can purchase a copy of this book on Harbour Publishing.
About the Authors
Roy Henry Vickers is a renowned carver, painter and printmaker. He is the co-author of Harbour Publishing's popular children's Northwest Coast Legends series, which were shortlisted for the Bill Duthie Booksellers' Choice Award: Raven Brings the Light in 2014, Cloudwalker in 2015, Orca Chief in 2016 and Peace Dancer in 2017. He lives in Hazelton, BC.
Robert (Lucky) Budd is the co-author of the Northwest Coast Legends series and the author of Voices of British Columbia (Douglas & McIntyre, 2010), which was shortlisted for the 2011 Bill Duthie Booksellers' Choice Award, and its sequel, Echoes of British Columbia (Harbour Publishing, 2014), which won second prize in the BC Historical Federation's writing competition in 2014. He lives in Victoria, BC.
Disclosure: I received a copy of this book in order to facilitate this review. All opinions expressed are my own.