When Calls the Heart Review and Giveaway

The love story blooming in Hope Valley continues with the television special, When Calls the Heart, available on DVD from Shout! Factory on March 20th, 2018.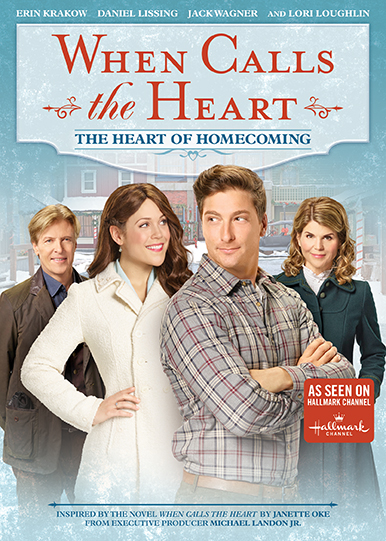 About When Calls the Heart
From celebrated author Janette Oke (The Love Comes Softly series) comes a rigorous and romantic adventure as epic as the wide frontier. Erin Krakow (Army Wives), Daniel Lissing (Eye Candy), Jack Wagner (Melrose Place) and Lori Loughlin (Full House, 90210) star in When Calls The Heart, a beautiful story filled with "many of the values we all hold precious such as love, family, friendship, community, faith and caring about one another" (Military Press).
The citizens of Hope Valley find the true meaning of the holiday season with a Wishing Tree that helps everyone's dreams come true. As Abigail, Bill, and the rest of Hope Valley work together to create a special Christmas parade to warm the town's collective hearts and bring everyone closer together, Elizabeth longs only for the return of her beloved Jack.
Executive produced by Michael Landon Jr., When Calls the Heart currently airs on The Hallmark Channel.
Our Thoughts
This was a wonderful, wholesome movie that I couldn't help but fall in love with (not to mention our youngest – who was so excited to see "Aunt Becky" in this film). After watching it, I had to find out a little bit more about the history of Hope Valley and Elizabeth. The television series was based on the books by Janette Oke's Canadian West series. In the television series, the wealthy Elizabeth heads off to the Canadian Frontier to teach children in a small mining town in Alberta. She must learn the ways of small country living in order to fit in and survive.
This movie was Christmas themed based on the themes of hope, love and faith. The town sets up a Wishing Tree where everyone can hang up an ornament with their Christmas wish. Residents were then encouraged to take one back in turn to help someones wish come true. Also going on is the return of a past resident who is doing penance for his crimes, Elizabeth's wish for Jack to return and stay with her and the possible loss of a pregnancy in one of the town members.
There were a lot of great themes in this heart warming story. We learn a lot about hope, faith and love. We are reminded to believe in others and always see the good in their hearts, sometimes we have to move past their past actions in order to see the good but it will definitely be worth it. We are faced with faith that we will make it through every possibly negative experience okay and that each experience is meant to teach and guide us. This is a movie that all members of the family can enjoy all year round, even with the Christmas theme.
You can purchase a copy of When Calls the Heart on Shout! Factory.
The Giveaway!
My Canadian and American readers can now enter to win an advance copy of When Calls the Heart DVD! Enter via the Rafflecopter form below – good luck!
Disclosure: I received a copy of this DVD in order to facilitate this review. All opinions expressed are my own.