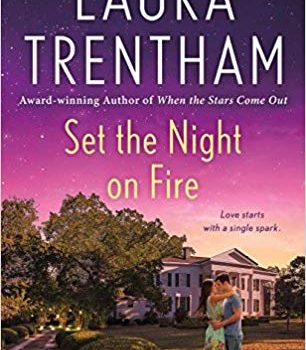 In Set the Night on Fire, Cottonbloom is the perfect place for starting over, finding your way back home and falling head over heels.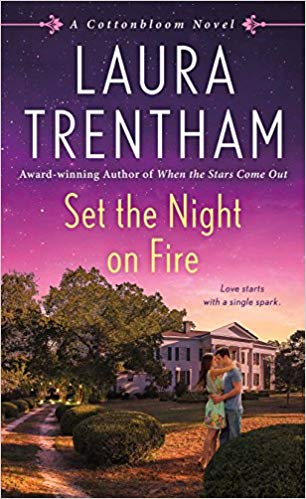 About Set the Night on Fire
Ella Boudreaux has a lot to prove to her family, friends, and foes―and to herself. So when her marriage ends she decides to invest her energy and money into a place that brings back some of Ella's happiest memories: the Abbott brothers' garage. Maybe, if she puts her mind to it, she can teach skeptical, stubborn Mack Abbott how to make the business a true success. Which would be a lot easier if the hunky mechanic didn't make her motor run quite so fast and hot.
Mack was furious when his brother, Ford, sold his share of the business. He's in no rush to team up with a wealthy divorcée who shows up to the garage in stilettos―and the longest, sexiest legs he's seen in forever. But Ella's grit and determination won't quit…and soon Mack can see that she's been down a few rough roads herself. Neither Mack nor Ella can deny the fierce attraction that's revving up between them. Could it be that true love has been in the backseat all along…and they've finally found the key?
My Thoughts
This is a fantastic series set in Cottonbloom – a rough group of mechanics who have met their match in their female counterparts.
In this novel, Mack is the tough one – the one who feels like he has to carry the weight of his Father's business, carry the greatest burden and has to hold the family together. He has given this burden to himself, no matter how much his brothers try to help him carry this load. His greatest fault? Holding a grudge and not being able to let it go despite knowing he is wrong. He is carrying a grudge against his Mother and it has prevented him from reuniting with her despite his brothers building bridges with her. It has prevented him from forgiving his brother Ford who sold his share of the business and no longer making the shop family owned.
It was this sale that brings Ella into his life. She has gone through a lot in her life (and to get the details you have to read the story!) but she has grown from her ordeals. She is tough as nails, stubborn but full of understanding, forgiveness and understanding (more so when it comes to others!).
These two are so much a like on the inside but complete opposites on the outside. They clash at first but as the story continues, you can see how well they complement each other. But they have a lot of their own personal history to overcome in order to move into the future, IF that is even what they want to do. They struggle with the idea of a relationship building between them especially with their turbulent histories and lack of trust.
This is a beautiful story of forgiveness, healing and moving forward. Both Ella and Mack need to heal their past in order to have any hope of a future. We watch patiently as they struggle to come to terms with their past, forgive those that they need to and build important relationships with key family members. We struggle along and pray with them that they will be able to move forward because deep down inside you can see how perfect they will be for each other. I loved every moment of this story!
You can purchase a copy of this book on Amazon.
Rating: 5/5
About the Author
Laura Trentham is an award-winning author of contemporary and historical romance, including Then He Kissed Me and Set the Night on Fire. She is a member of RWA, and has finaled multiple times in the Golden Heart competition. A chemical engineer by training and a lover of books by nature, she lives in South Carolina.
Disclosure: I received a digital copy of this book, all opinions expressed are my own.