Tekno Newborn Technology Brings Pets to Life!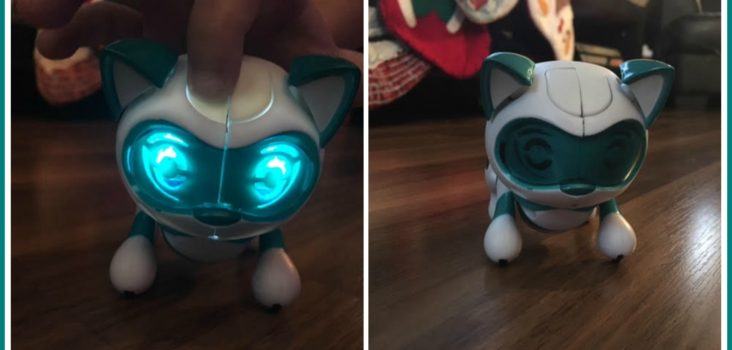 My children love animals – the only downside? Mom is allergic to both dogs and cats (I know I am the kill joy in the family!). We have one hypoallergenic dog but my kids see their friend's cats and just fall in love. I so wish we could bring home a kitten for them to play with but this is definitely not in the cards for us.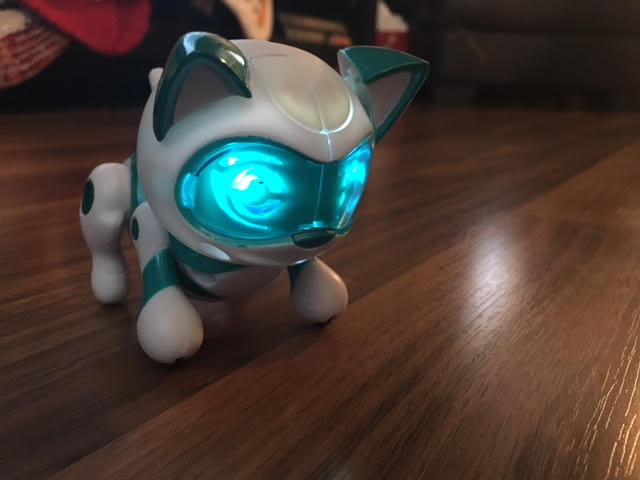 Tekno Newborn brings the fun of having a kitten and puppy into your home with their technology. Your child can play with their very own Tekno kitten or pup that comes in various colours (the pet itself is white with pink/blue/purple/teal/Dalmatian as the secondary colours and an exclusive all black puppy at Toys R Us). The pet fits into the palm of your hand and is light weight. The neatest part about the little pet is they are touch and voice sensitive. You can teach your little friend to beg, jump and even sing!
Our youngest fell in love with his teal kitten. He was petting her head, talking to her and was so excited to see her jump into his hand. I was a bit worried that she (we felt our new little kitten was a female and named her Captain) would not be able to take too much roughness from him. He dropped her on one of his first tries in getting her to jump. We were all a bit nervous, as I am sure many of you parents can understand, as her ear fell off. To our great relief it fit back on perfectly. It is almost like the makers knew that this was a possibility and designed the toy to handle what a small child may put it through. She has taken several jumps and falls and still comes right back ready to jump again (much to our great relief!).
The Tekno Newborns can be purchase at Toys R Us, Walmart, Canadian Tire, Loblaws and London Drugs. The toy will cost you about $24.99 and is recommended for children three years of age and older.
The Giveaway!
My Canadian readers can now enter to win their own Tekno Newborn friend via the Rafflecopter form below. Good luck!
Disclosure: I received a Tekno Newborn in order to facilitate this review. All opinions expressed are my own.