Real training starts in the kitchen – get ready to be inspired and learn 100 muscle building, fat burning recipes with The Fighter's Kitchen.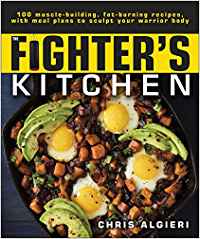 The Fighter's Kitchen
100 muscle-building, fat-burning recipes, with meal plans to sculpt your warrior body.
Ever wonder how professional MMA fighters in the UFC prepare their bodies for fights? The real training often starts in the kitchen, where the right meals at the right times can give fighters everything they need to be ready for their next match.
Fighters fuel their bodies with precise nutrients delivered at specific times to achieve their functional physiques–and now you can too. The Fighter's Kitchen provides expert guidance on what and when to eat, and it helps you understand how our bodies use what we eat to burn fat and build lean, strong muscle. Through phased weekly meal plans, expert insight on how and when to take full advantage of your body's muscle-building capabilities, and 100 delicious recipes, you'll find yourself looking ring ready even if you have no plans to step into one.
Our Thoughts
There really is a science to eating well and gaining muscle mass and losing weight. When I lost the majority of my weight, I had to really watch my macro nutrients – I kept track of how much protein, carbs and fats (as a percentage of my total calories in a day) and needed to ensure I kept in a very specific ratio for both losing weight and maintaining muscle. It worked really well for me.
This book dives into a greater knowledge of those macro-nutrients, why they are so important and how to use them to achieve your body goals. You can choose from one of four plans: maintenance, strength, muscular endurance and power and explosion. You are told your total calories for the day and the percentage of carbs, protein and fats. For example – the strength plan sees your carbs at 40%, protein 30% and fats at 30% of your daily caloric intake (when I was losing weight my protein was 40%, carbs 30% and fats 30% for example). The key is in counting and keeping track. While this book has a breakdown for each recipe – if you don't track everything you intake, it wont be helpful.
After a sound background into the meal plans, nutrition, sample meal plans – Chris gives us 100 recipes that are easy to make, full of nutrients and help you meet your goal. There are sections for: breakfast, entrees, salads & sides, sandwiches & steaks and smoothies, shakes & desserts (my favourites!). Each recipe is on its own page and also comes with its own nutritional break down for calories, fat, carbs and protein. The recipes are for the most part very simple to follow (usually only a few steps), some items you will have to purchase specially but if you follow a healthy diet you should have many of these items at home.
This is an excellent resource and recipe book for men and women, who are looking to improve their health, increase their nutrition knowledge and focus on giving their body the fuel it needs to meet their goals. While easy to follow (mostly because of the fantastic writing) – it is jam packed with knowledge and tools that you need to succeed with your goals. A must have for every health conscious individual.
You can purchase a copy of this book on Amazon.
Rating: 5/5
About Chris Algieri
Chris has over 13 years of professional fight experience – the Former World Boxing Organization Jr. Welterweight Boxing Champion, ISKA World Welterweight Kickboxing Champion and WKA World Super Welterweight World Kickboxing Champion.
Chris has a Bachelors of Science in Health Care Management and a master's degree from the New York Institute of Technology. He is a certified Sports Nutritionist through the International Society of Sport Nutrition and speaks at conferences, seminars and summits on various topics of human performance and nutrition.
From his website:
"Aside from the performance and sports science aspect of food, I love to cook and share meals. I come from backgrounds (Argentinean on mother's side and Italian on father's) that stress the importance of food culture and community. I grew up with a sense that the food we prepare and share is more than just macros and micros. My passion and understanding of food preparation comes across in my cooking. Anyone who enjoys cooking, loves to share their creations with others!" " – Chris Algieri http://www.chrisalgieri.com/about-2
Disclosure: I received the above book in order to facilitate this review. All opinions expressed are my own.