The Mythology Book: Big Ideas Simply Explained

In The Mythology Book, eighty of the world's greatest myths and characters, from the gods of Greek mythology to the Norse heroes, retold and explained with engaging text and bold graphics.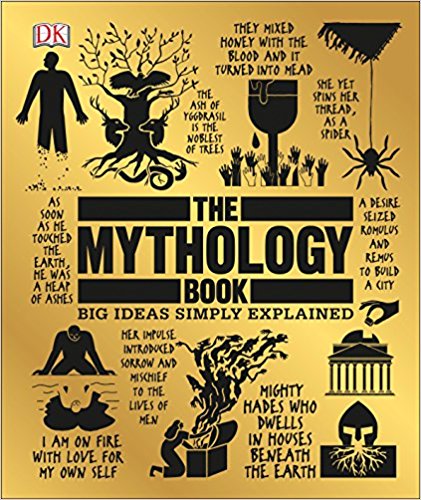 About The Mythology Book: Big Ideas Simply Explained
From early creation stories to classical hero narratives and the recurring theme of the afterlife, experience each myth and unravel the meanings behind the stories, getting to the heart of the importance of mythology to different cultures worldwide. More than just stories, myths are a testament to the amazing creativity of humans striving to explain and make sense of the world around them. Here you will discover Zeus, god of the sky and ruler of the Olympian gods, and Loki, the cunning trickster with a knack for causing havoc, aided by his ability to change shape and gender. Beyond the gods and goddesses of Ancient Greek, Roman, and Norse myths, this book delves into the stories of the Australian aborigines, the Cherokee, and the Aztecs, each brimming with amazing characters and insights into human existence.
This newest title in the bestselling Big Ideas series pairs engaging visual style with global coverage of world myths–profiling everything from the well-known tales of the Greeks, Norsemen, and Egyptians to the legends of the Caribbean, the Americas, Oceania, and East Asia–bringing the wisdom of the ages to life.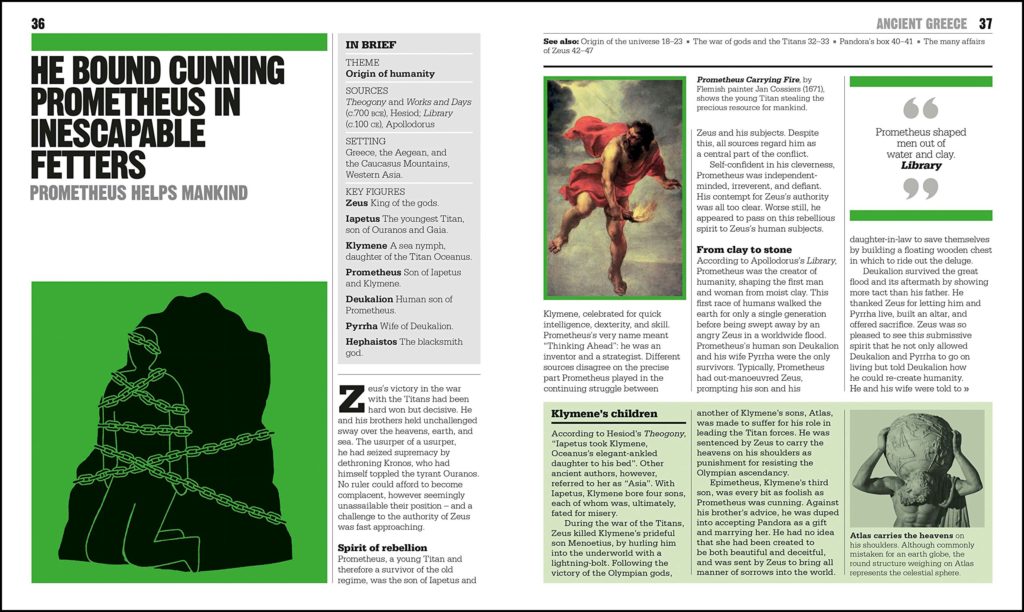 My Thoughts
I am a HUGE history buff – from books to movies to television series, I love it all. In my undergraduate degree all of my elective courses were in the study of Ancient Greeks, Romans, Aztecs and Mayans, to be even more honest, those are the only textbooks I still have from my University days. There is just something so incredible about diving into the past, learning about beliefs, religions, myths and culture. These civilizations shaped so much of what we know today and some of our own beliefs and religions, how can you not want to learn more about them?
This beautiful hard cover book is just slightly smaller than letter sized. The book covers everything from Ancient Greece and Rome to Northern Europe to Asia to The Americas to Ancient Egypt and Africa and Oceania. In logical order, we follow the path of the stories and myths for each culture as they grew and evolved (for example in Ancient Greece, how Gaia gave birth to Ouranos, her children were born and how they destroyed their Father and how the cycle went on). Each myth begins with  a brief overview of the theme of that subject, the setting and the key figures. Throughout each section, there are two page spreads that contain the main themes coming up with designs appropriate to that culture and gives you a great hint of what is to come. Each story spans roughly two to four pages and contains highlighted quotes and inserts that contain information on key figures, stories, legends and more. I love love love all of the images that were included in this book. They have included paintings and artifacts that help depict the story while giving us additional context into the story.
This is an amazing book that you will want to read time and time again. With its easy flow, you can come back to it, re-start at a different culture, fast forward to a specific story or figure that you want to learn more about and so on. It is a great read for both young adults and adults alike to help gain a better understanding of the important cultures that made us who we are today.
You can purchase a copy of this book on Amazon and DK Canada.
Rating: 5+++/5
Disclosure: I received a copy of this book in order to facilitate this review. All opinions expressed are my own.