The Prehistoric Comes to Life in Ultimate Dinosaurs from DK Canada

A visual and informative exploration of the monsters who once ruled the Earth, Ultimate Dinosaurs explores the prehistoric world.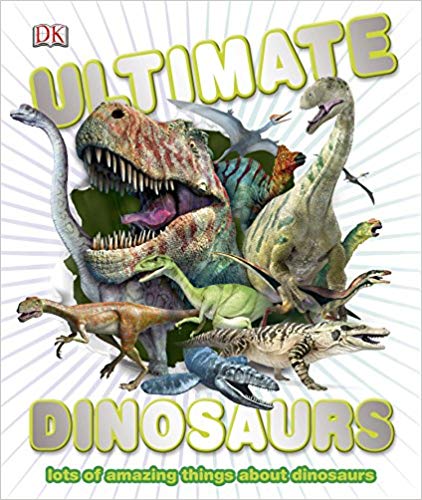 About Ultimate Dinosaurs
A visual exploration of the monsters who once ruled the Earth, this book explores the prehistoric world through photographic galleries complemented by lively, informative text, making it a delightful reference tool for children and adults alike.
Travel along a conveyor belt to see a prehistoric timeline, piece together the parts of a missing dinosaur at an archaeological dig, or discover the secrets of the Stegosaurus by looking at a close-up of its skeleton. In Ultimate Dinosaurs readers will learn more about the beasts of the Triassic, Jurassic, and Cretaceous Eras — including what dinosaurs ate, how they defended themselves, and what might have made them extinct.
My Thoughts
This large, hard covered book will make the perfect gift for your child who loves everything dinosaurs.
Unlike other books, this book gives you an in-depth look at all aspects of dinosaurs, not only their history and names but also an examination of their bodies and senses. Want to learn more about their skeleton, soft tissues, communication, defensive and offensive weapons and even their hunting as a pack? Then this book is for you!
The book has beautiful images that either fill the page or become part of the story (puzzle pieces of the dinosaurs images in the 'piecing it together' section) but the images do not distract from the important written aspect of this book, which I think is so important. This book is covering new and incredible information that you don't tend to find in a child's dinosaur book so you don't want the images to be too distracting.
We loved this book from start to finish, as a family we all learned something new which is so important –  every time you open a book it should capture, teach and inspire a passion. This book does that for children (and adults!), inspiring them to learn more and perhaps take an adventure to your local museum to help them put the whole picture together.
You can purchase a copy of this book on Amazon.
Disclosure: I received a copy of this book in order to facilitate this review. All opinions expressed are my own.