Back to School Help with A Visual Guide to Math from DK Canada

Key math vocabulary and concepts for young children explained simply in A Visual Guide to Math.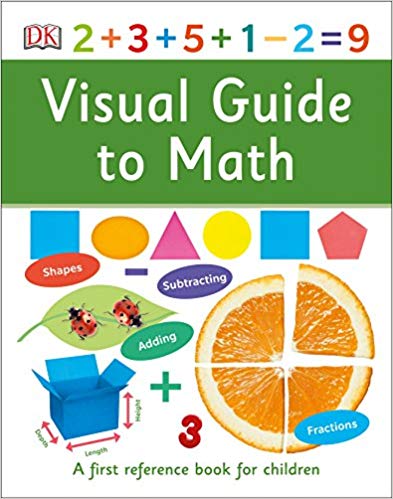 About A Visual Guide to Math
Clear, accessible pictures and diagrams support this first introduction to numbers, calculating, measuring, geometry, and data-collecting, making basic maths skills easier to understand. Packed with key terms and useful tips to help remember as well as practical examples of math in daily life, Visual Guide to Math is ideal even for reluctant kids. Place value, number bonds, multiplication tables, and fractions are just a few of the math concepts explained and reinforced in a variety of ways for children with different learning styles.
Covering everything a young child needs to know, this unique reference book follows the curriculum and provides a strong foundation for math skills through the rest of the school years. A perfect homework help to support children as they take their first steps in math and build confidence.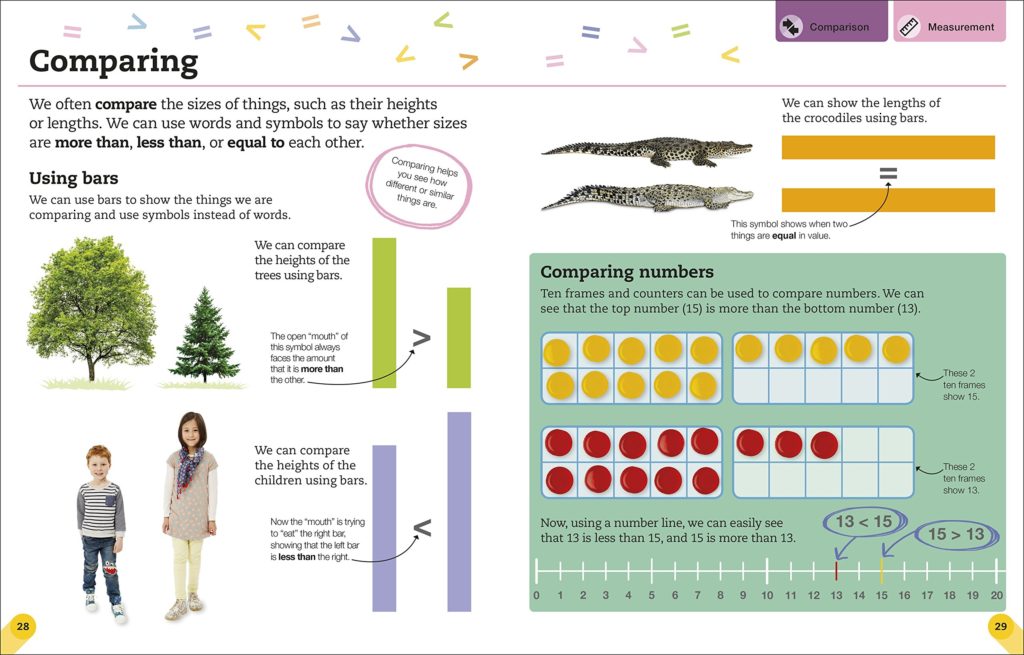 Our Thoughts
Math is by far one of the most important subjects you can help your child with. Math is all around them everyday, even if we as adults say we never use it. It is also a subject that some children may struggle with, I know I struggled with fractions as a child – I still dread when my eldest comes home with them!
This book introduces key math concepts used in the early stages of school that can assist you as a parent to understand what your teacher is teaching your child AND support their learning at home. I am not going to lie, math has changed a lot since I was in elementary school. There is a stronger emphasis on students learning math vocabulary, which is quite different from the right or wrong that I was used to even in elementary school. While it took me a while to understand why they teach them this way, it makes sense – children need to understand and express math in different ways in order to fully understand and grasp the concepts they are learning. These are the basic math skills that they will need to build on as they get older.
This book covered many of the topics and more that my child learned in grade one – from counting, orders, patterns, comparisons, adding/subtracting, differences, money and measurements. It also contained some topics he hasn't touched upon yet such as multiplying, division and my dreaded fractions!
The book uses child friendly font and size as well as bright and age appropriate pictures to help explain the introduced concepts. It is written in an easy manner that allows you to read aloud to your child and assist them with each concept. It gives you the why behind each concept and asks if you can see how items are related. You can use these as teaching moments to really ensure your child is grasping the concept. It also contains practice questions that you can work on together as well as using as a guide to create more practice questions.
Math is an important part of your child's school life and setting them up for success at a young age is crucial. This book is an important guide and resource for parents and children to help understand these math concepts that your child will use throughout their school years. This is an important book to have and use not only as the kids go back to school but throughout the year as well.
You can purchase a copy of this book on DK Canada and Amazon.
Rating: 5/5
Disclosure: I received a copy of this book in order to facilitate this review. All opinions expressed are my own.