Forever or a Day Book Review

In Forever or a Day, we celebrate the time you have with the ones you love.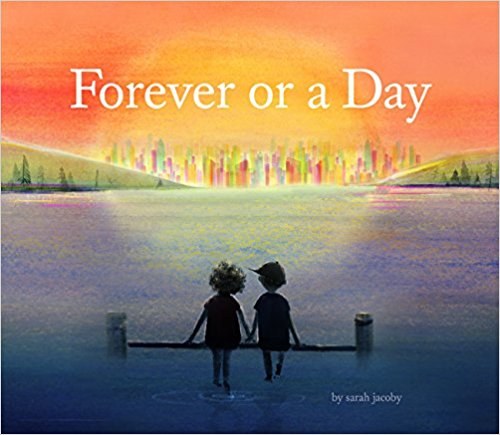 About Forever or a Day
Celebrate the time you have with the ones you love.
"The seconds that count in catching the bus;
The idyllic hours that slip by so quickly during a perfect day on the lake;
The summer days that disappear into blissful happiness"
This gorgeous picture book is a conversation between parent and child across the course of a single day. Inviting comparisons to All the Wonderful Things You Will Be, I Wish You More, and Love, this celebration of cherished moments with loved ones is at once simple, profound, and truly beautiful.
Our Thoughts
Forever or a Day is a touching, sweet book that is important for both children and parents to remember the importance of time and to live in each moment as we are never promised tomorrow.
As parents, we are reminded of this every day when we look at our children. They are growing taller, maturing, growing in knowledge and understanding. Sometimes these changes happen so slowly over time that it hits us hard and we look at them and think where did this time go?? I know this happened to me with my eldest, I look at him and think how can he be taller than me now and so handsome and mature? For children, all they want to do is get older so they can do all of the things they feel they may be missing out on. Both sides tend to forget to live in the moment and cherish each and every second. It usually isn't until a death in the family or a friend or in their community that we have to address this topic. But in those moments we fear that we didn't show our love enough to that person, could we have spent more time, could we have done a little bit more?
Reading this story out loud to my youngest, actually brought tears to my eyes. It reminded me that I need to slow down – soon enough my kids will be out of the house and not needing me as much anymore and all of those little things that drive me nuts right now, I will miss. It made me want to just hold on to my children tighter and ensure they know just how much I love them right now and that they are perfect just the way they are.
The story itself is simple and I like how the story is played out slowly over the pages, it reminds me of the meaning of the story – to slow down and appreciate each moment. With fewer words on each page, we could take the time to devour their meaning and appreciate the beautiful illustrations.
This is a truly beautiful book to cherish between parents and children – a definite must have in your family library.
You can purchase a copy of this book on Raincoast Books and Amazon.
Rating: 5/5
About the Author
Sarah Jacoby's illustrations have won awards from the Society of Illustrators (Gold Medal), Creative Quarterly, and Communication Arts . This is her first book as both author and illustrator. She lives in Philadelphia, Pennsylvania.
Disclosure: I received a copy of this book in order to facilitate this review. All opinions expressed are my own.