Sometimes You Fly Book Review

From Newbery Medalist and bestselling author Katherine Applegate, Sometimes You Fly is a sweet book of encouragement, filled with humor and insight into the effort behind any meaningful accomplishment in life.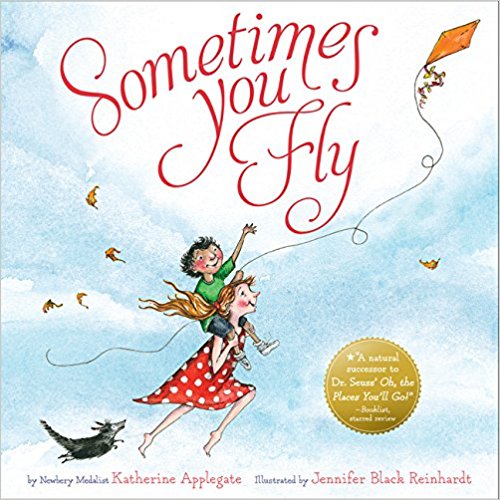 About Sometimes You Fly
This gorgeous gift book, equally perfect for preschool graduations or college commencements, baby showers or birthdays, is an inspirational tribute to the universal struggles and achievements of childhood. Beginning with a first birthday, the scenes travel through childhood triumphs and milestones, coming full circle to graduation. A magical blend of succinct text and beautiful watercolors renders each moment with tenderness and humor and encourages readers to remember then, with every try, "sometimes you fail . . . sometimes you fly."
My Thoughts
One of the hardest lessons to learn in life is to get back up after failure. This never gets easier as we get older, we just learn how to do it quicker and with less heartache (most of the time).
As parents, one of the greatest gifts we can give our child is the opportunity to make a mistake and to fail but also to encourage them to try again. That this one moment will not define them – that they will make it through. The unknown is scary, even more so for young adults and children who have never had to deal with anything like it before. We have to show them that it is okay to take a leap of faith, to try something new but also step back and allow them the freedom to make a mistake and not jump in to fix it. Not the easiest task for parents as it feels like since day one our main job has been to protect them!
I fell in love with this touching book that would make an excellent graduation gift, even though it seems like it would be geared towards younger children. It explores from birth to adulthood all the major milestones that at the time seem impossible but looking back they seem so small. We can cherish every accomplishment and know that for every failure, we picked ourselves up and tried again. With every risk we take in our lives, there is always a chance of failing but there is also a chance to soar into something new and exciting. That is what makes every risk and jump of faith worth it.
This beautifully illustrated book came at the right time for my family as a reminder that it is okay to make mistakes and to fail. Failure does not define us as a person but instead it gives us the chance to leap into something new. Sometimes You Fly is a special book for young children and adults alike as they move forward in their life and need that little bit of encouragement and pat on the back to say it will be okay.
You can find more information on this book on Raincoast Books and purchase this book on Amazon.
Rating: 5/5

About the Author
Katherine Applegate 's many children's books include the Newbery Award-winning novel The One and Only Ivan, the bestselling novels Wishtree and Crenshaw, the bestselling Animorphs series, and the picture books Ivan and The Buffalo Storm . She lives in California. Visit her online at katherineapplegate.com and on Twitter at @kaauthor.
When her elementary school classmates said they wanted to be firemen, doctors, and vets, Jennifer Black Reinhardt declared she wanted to draw the picture on greeting cards. Today her diverse body of work includes not only greeting cards but chapter books and picture books, including Yaks Yak by Linda Sue Park and Sometimes You Fly by Katherine Applegate. Jennifer lives with her family in Iowa City, Iowa. Visit her online at jbreinhardt.com, on Twitter @jblackreinhardt, and on Instagram @JenniferBlackReinhardt.
Disclosure: I received a copy of this book in order to facilitate this review. All opinions expressed are my own.