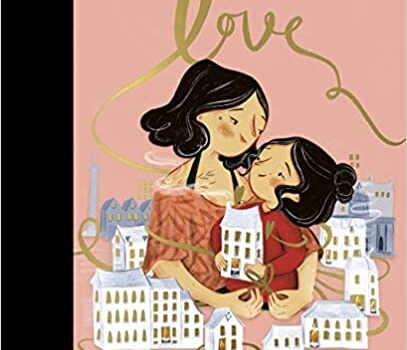 "Love connects us, no matter how far apart we are." – Love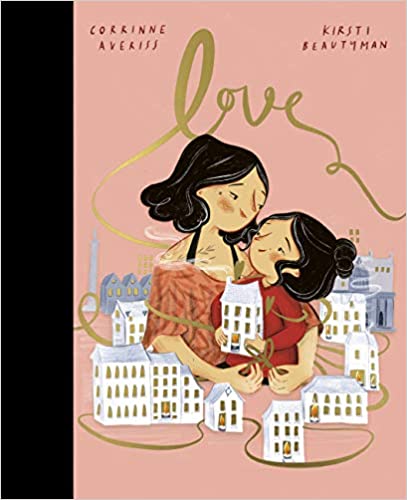 About Love
Everyone loves everyone in Tess's house. When Tess has to leave for school for the very first time, she is worried that her family's love might not stretch that far. Her Mom explains that love is like a string, that it connects people together even when they are far away. At school Tess notices that all the children have strings. Some are new, some are old, some stretch a long way, and some even stretch right up into the sky! But what happens when a string breaks?
Our Thoughts
We fell in love with this beautiful story about relationships and the power of love between families, friends and even teachers. Big events can be scary for children, especially when they have spent their lives surrounded only by their immediate family and loved ones. The thought of being separated from this love and comfort zone is scary for children. This book did an amazing job of showing children that we are still connected to our family and loved ones through a very special bond (in this story a string) that stretches and bends over long distances but no matter what is always there. All of us have strings to our loved ones and each string is just a little bit different. Tess learns about these strings and how they are connected with a big new adventure for her – school!
This book does an incredible job of making a tough topic easy to understand, full of compassion, and understanding. It made my heart melt as we read the story together. The words flow nicely and have a great rhythm to them. The illustrations feel soft and tender, matching the tone of the story and help pull the story together. Love is a beautiful story for young children as they set out for preschool and school for the first time (and even for older children as they deal with separation and anxiety). It helps to tackle those big feelings in a way that young children can break down and understand.
You can purchase a copy of this book on Amazon.
About the Author and Illustrator
Corrinne Averiss is the author of My Pet Star, winner of the Sainsbury's Children's Book of the Year, the Stockport Children's Book Awards and in over 450,000 homes as part of Booktrust's Pyjamarama campaign. Her first book, A Dot in the Snow, illustrated by Fiona Woodcock, was shortlisted for the CILIP Greenaway award, featured on CBeebies' Bedtime Stories and in The Sunday Times' Books of the Year. She is the author of Joy, Hope, Sorrel and the Sleepover, The Boy on the Bench, and Floss the Playground Boss. She is drawn to themes of identity and belonging in her books and aims to deliver big feelings with humour and tenderness.
Kirsti Beautyman works from her studio in Newcastle Upon Tyne, UK, using a range of mediums to build layers of texture and detail which are combined digitally to create her illustrations. She finds inspiration within mundane observations and is often staring vacantly into the distance thinking up narratives and ideas. Kirsti won Picture Hooks Illustrator of the Year Award in 2017.
Disclosure: I received a copy of this book in order to facilitate this review. All opinions expressed are my own.