Making Sense of ADHD Book Review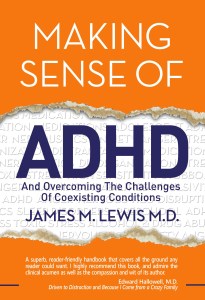 "The ultimate goal of Making Sense of ADHD is to provide the parents with the tools to get their child on the right path and keep them there when they have so many problems at the same time," – Dr. James Lewis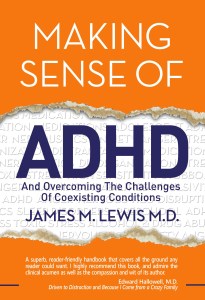 About Making Sense of ADHD
In this book, Dr. Lewis explains and makes sense of the latest science concerning ADHD and the conditions that tend to cluster around the diagnosis. He shares the wisdom he's earned through decades of treating patients and supporting their parents.
Dr. Lewis encourages and provides the information for parents to take control of coordinating the many professionals who work with their child, so that the child and the family have a team on their side: Parents – Teachers – Doctors – Counsellors – Coaches.
Drawing on his vast experience, Dr. Lewis shares the steps required to set a patient on the path to the success, relationships, and optimism that they feared would always elude them. He shares his understanding that it takes a team and that only a parent (and a patient) can coax a group of professionals into a team whose collective expertise allows their child/individual to flourish. He has watched it happen. He has coached those parents. He has supported and cheered those children as they grew into thriving adults.
ADHD is often accompanied by other conditions that need to be teased out and treated. Dr. Lewis explains how to work with co-existing conditions if (and when) they occur.
My Thoughts
This was my first time reading through a book about such a challenging topic for many parents and individuals. Although my own children do not have ADHD, because of how much we hear about it I really wanted to learn more about the diagnosis, treatments and how to set up a child for success as a parent.
This book was not what I was expecting at all. Dr. Lewis approaches ADHD as you would any other medical ailment (diagnosis, treatment and re-adjusting treatment if the initial diagnosis is incorrect). He puts focus on the parents, not in a negative manner which you can hear too often, but giving them the leadership tools to be the champion for their child. As parents, we see our children at their best and at their worst, we know what is normal for them and what is out of character. We are their greatest advocates and voices for them when they can't be. Dr. Lewis stresses the importance of the parent in the role of treatment and respecting parents observations, goals and the role that they play. He never downplayed concerns that parents had but instead looks at short and long term goals for families. I love the way he speaks and you can feel his compassion for individuals through the way he writes. He is very patient and family focused and you can see this throughout the book.
Dr. Lewis breaks down ADHD into manageable chapters and even includes accompanying conditions that many of the patients go through (including anxiety – which I actually found quite helpful dealing with my own children). He uses examples from his practice that allows you to relate to other parents and children but also find tools and hope for managing at home with symptoms. I can appreciate how he also examines the external environment and looks for clues on how this could be affecting a child. I sometimes find that this is too often overlooked – what is going on at home, relationships with parents and siblings, school and so on. This can greatly impact any child and should be carefully looked at.
This is an excellent resource for parents, educators and those who provide care for children with ADHD.
You can learn more about this book here. You can purchase a copy of this book here.
About the Author
Dr. James Lewis, a Professor of Pediatrics at the Joan C Edwards School of Medicine at Marshall University in Huntington, WV, is board certified in both Pediatrics and the sub-specialty of Neurodevelopment Disabilities. He received his pre-clinical training at Houghton College and the State University of New York School of Medicine at Buffalo. After two years of residency in Family Medicine at the University of Maryland Hospital in Baltimore, Dr. Lewis completed a three-year pediatric residency at the same institution. During his final year, he served as Co-Chief Resident with educational and clinical responsibilities that included supervising the ER, hospital wards and PICU. His background in family medicine stimulated his interest in children with special health care needs both physical and emotional, which led him to complete a one-year fellowship in Ambulatory and Community Pediatrics at the Children s Hospital of Pittsburgh. After two years back in Baltimore, he and his family moved to Huntington, West Virginia, in 1983 to join the Department of Pediatrics at the Joan C. Edwards School of Medicine at Marshall University. He practiced both general and behavioral pediatrics and cared for hospitalized newborns, children and adolescents. In 2002 he developed the School Solutions Center at the University, devoting his practice exclusively to children with school and behavioral problems. He continues to see new patients who have been referred for evaluation and follow-up care on a daily basis, teach medical students and train pediatric residents. Throughout the process, he successfully employs a parent-centered multidisciplinary team following the medical home model. Dr. Lewis lectures regularly on ADHD and coexisting conditions to parents and professionals. He has presented his research interests in ADHD and its association with autism, anxiety, parental stress, learning disabilities and adverse childhood experiences at national and state meetings of the American Academy of Pediatrics (AAP), the Pediatric Academic Society, the Learning Disability Association of America, the Society for Developmental and Behavioral Pediatrics and CHADD. He has published more than 25 scholarly journal articles, book chapters, and scientific abstracts. He is currently the Chairman of the West Virginia AAP Committee for Children with Special Health Care Needs and Foster Care. He was also awarded West Virginia s first five-year, Healthy Tomorrows grant from 2007 to 2012 to coordinate medical care, with a focus on ADHD, for homeless children. Dr. Lewis also received the inaugural Abraham Finkelstein Resident Teaching Award and two Special Recognition Awards from the AAP. Dr. Lewis and his wife Libby, have six grown children including twins, all with careers in medicine or teaching. Two of the boys have ADHD with associated educational and behavioral issues. They are particularly proud of their three grandchildren and are happy to provide pictures on request.
Why We Need This Book
Disclosure: I received a copy of this book in order to facilitate this review. All opinions expressed are my own.