To Catch an Earl Book Review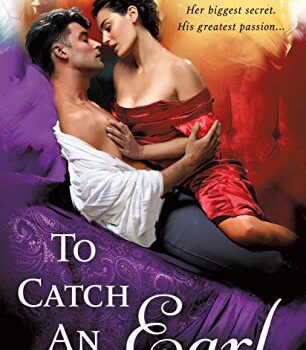 Working undercover for London's first official police force, the Bow Street Bachelors have an obligation to serve the city's best interests—even while they're falling for the city's most alluring women.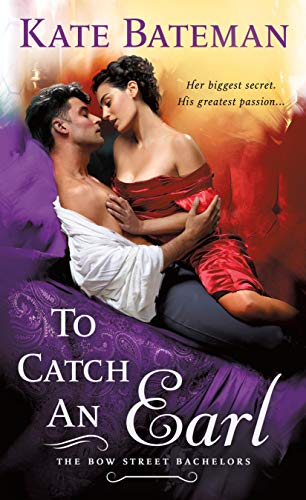 About To Catch an Earl
Alex Harland, Earl of Melton and dedicated rake, never pictured himself as an agent of inquiry. But the thrill of investigation is a challenge he now embraces. When he's asked to pursue the Nightjar, a notorious thief who is reclaiming France's crown jewels, the case throws him into the path of the beautiful and equally elusive Emmy Danvers, reminding him of the only puzzle he's never solved: the identity of the mysterious woman who once stole a kiss from him—and left him wanting so much more.
The daughter of a thief, Emmy learned long ago how to keep her secrets safeguarded—and, as the notorious Nightjar, her love for Alex Harland is one of them. With the determined earl hot on her trail—and making her hot under the collar—Emmy has no choice but to keep her distance. But when a moment's danger threatens Emmy's life as well as her name, will Alex finally discover that he's followed every clue…to true love?
My Thoughts
I love the first book in this series as the plot was so different from the typical historical romance and this novel in this series does not disappoint.
Emmy is the daughter of a thief and has learned well from her Father, including learning all of the tricks of the trade. She is determined, strong but reserved in society because of her family history. The one man she does fall in love with (Alex) at a ball during a dance, is someone she knows she can never be with especially given her family history. She never does forget the special moment they shared at the ball and carries it with her for four years.
While her Father was a thief (the Nightjar), he did so for a noble cause – returning the French jewels to the French (not at a price but to ensure the jewels return to their real home) and his calling card? A black feather. With four years of no thefts, the sudden return of the black feather has many people wondering has the thief returned? What does the thief now have their eye on? How will they stop the thefts from happening?
Alex is determined to catch the Nightjar and he prides himself on his skills to solve cases that no one else can. He does not hesitate to take on this case and begins to plan to capture the Nightjar in the act. Alex is a hard man, he does not open easily but there was something special about a woman that he met at a ball four years ago. He never learns her name and his only memory of that moment is a special scent that she wore. Alex's beliefs are sent spinning as he begins to investigate the Nightjar case and he has to question everything that he has believed his whole life. Can he look past her history in order to accept love? Can he even keep her alive as the plot begins to thicken?
This was an excellent, exciting novel with great twists that I did not see coming. I loved our characters that were full of personality and humour even as they face great obstacles (including bribery and murder!). The novel develops well and at a great pace, where you do not feel as though you are missing anything but not too slow either. This novel is a great summer read.
You can purchase a copy of this book on Amazon.
Rating: 4/5
About the Author
Kate Bateman, (also writing as K. C. Bateman), is the #1 bestselling author of historical romances, including her RITA® nominated Renaissance romp, The Devil To Pay, and the novels in the Secrets & Spies series To Steal a Heart, A Raven's Heart, and A Counterfeit Heart. When not writing novels that feature feisty, intelligent heroines and sexy, snarky heroes you want to both strangle and kiss, Kate works as a fine art appraiser and on-screen antiques expert for several popular TV shows in the UK. She splits her time between Illinois and her native England.
Disclosure: I received a digital copy of this book in order to facilitate this review. All opinions expressed are my own.