The Metabolism Solution Review & Giveaway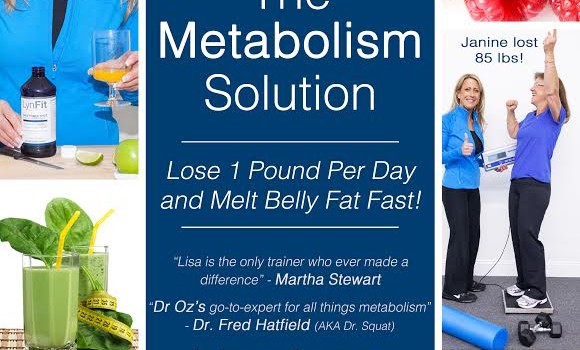 A sluggish metabolism can hinder weight loss and fitness goals. After years of research Lisa Lynn has developed an approach to eating and exercising to help maximize your metabolism in order to reach your weight loss goals.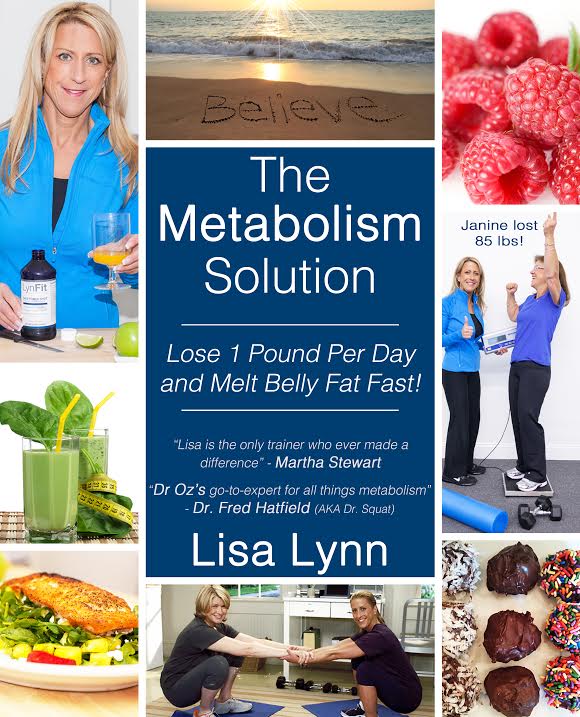 About The Metabolism Solution
You might be thinking – not another weight loss plan! But here is the main difference between The Metabolism Solution and other weight loss solutions: Lisa Lynn focuses on the body and what we are consuming to help with weight loss. Lisa has studied and examined how to increase our own body's natural metabolism to speed up our weight loss and fitness goals. Lisa also teaches us how to work out (yup there is a science behind exercise!) and how to use this to help you reach your goals. Lisa also includes some delicious recipes at the end of her book to help guide you in meal planning and eventually developing your own recipes. The Metabolism Solution is the perfect road map to transform your whole life.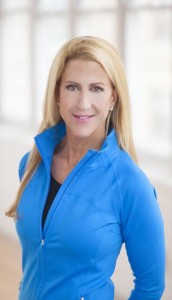 About Lisa Lynn
Lisa Lynn is a celebrity fitness and nutrition expert who has dedicated three decades of her career to personal training, metabolic weight loss and performance nutrition. Coupled with her experience in fitness and nutrition she has earned four certificates from the International Sports and Sciences Association's Professional Division.
Her research in metabolic boosting and performance nutrition has resulted in the development of her Leaner Lifestyle DVD series that help promote healthy fat loss by boosting stubborn metabolisms. ​
My Thoughts
I have been dedicating the last several months to healthier eating and (trying) to stick with my workouts. I have not always been faithful (hang head in shame!) and at times I have felt just like giving up. Mostly because I can not get my food and exercise to work for me. I am having a hard time revving up my metabolism and ensuring that I am reaching maximum results or any results to be very honest. This book was delivered at a perfect time for me.
Lisa devotes several of the chapters examining and explaining the how to and why's of diet and exercise. Even with my own educational background I found I definitely needed this refresher to help open my eyes. While some of the advice will be hard to follow – cutting out the amount of red meat, fruits and adding in all the extra vegetables (which will definitely explain the weight loss achieved) a lot of it is good healthy advice that we should be incorporating into our daily lives.
Lisa also includes a fantastic set of recipes at the back of the book divided up into categories with some pretty fantastic and delicious sounding names. Each recipe was easy to follow with minimal steps to take to prepare the recipe. Which makes sense as the healthiest meals for us are the simplest ones with minimal ingredients. I found that it may be hard to stick to the increased vegetables with minimal fruits (she suggest one a day) as I love my fruits.
I really like the way Lisa writes. You feel like you are having a conversation with her and she has been there. Any excuses you may have she already knows and has the answer for you. She gets straight to the point and explains the theories she presents in an easy manner.
Overall, The Metabolism Solution, is a very helpful tool to aid in weight loss and if you can stick to Lisa's suggestion you will be on your way to weight loss in no time! If you are like me and have a harder time you can adapt her concept to better suit your goals and have the benefits of eating healthy and losing weight (just slower than others may).
Rating: 4/5
Giveaway Time!
a Rafflecopter giveaway
Disclosure: I received a copy of the Metabolism Solution in order to facilitate this review. All opinions expressed are my own.