The Last Sword Maker Book Review
The Last Sword Maker is a globe-trotting thriller with unforgettable characters that depicts a haunting vision of the future of warfare.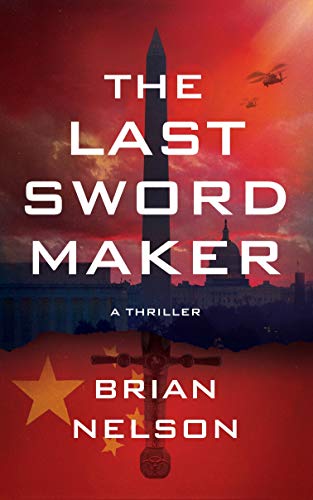 About The Last Sword Maker
In the high mountains of Tibet, rumors are spreading. People whisper of an outbreak, of thousands of dead, of bodies pushed into mass graves. It is some strange new disease that can kill in minutes.
The Chinese government says the rumors aren't true, but no one is allowed in or out of Tibet.
At the Pentagon, Admiral Curtiss is called to an emergency meeting. Satellite images prove that a massive genocide is underway, and an American spy has made a startling discovery. This is no disease. It is a weapons test. Chinese scientists have developed a way to kill based on a person's genetic traits. But that is only the tip of the iceberg. The success of their new weapon proves that the Chinese are nearing "Replication"—a revolutionary breakthrough that will tip the global balance of power and change the way wars are waged.
Now the US must scramble to catch up before it is too late. Admiral Curtiss gathers the nation's top scientists, including a promising young graduate student named Eric Hill who just might hold the missing piece to the replication puzzle. Soon Hill and his colleague Jane Hunter are caught up in a deadly game of sabotage as the two nations strive to be the first to reach the coveted goal. But in their headlong race, they create something unexpected, something the world has never seen and something more powerful than they had ever imagined.
My Thoughts
This novel was exciting and terrifying from start to finish. The technology that is explored in this novel doesn't seem real because you really don't want it to be but in the back of your mind, you can keep thinking could this be real.
The novel starts with a mysterious disease that is killing thousands of individuals living in Tibet but no one really knows what it is, why it seems to only target these individuals and how the disease came to be. When it becomes clear that this is just not your regular illness, the US military steps in.
What begins to unfold is mind blowing, as the characters enter a high risk race to be the first to develop this new weapon but at what cost? The race to be the first to uncover the secrets to replication is full of betrayal, death and lies, and puts two super giants fighting against each other. Who will discover the technology first? Who can you trust? How do you decide who lives and who dies?
This novel was both terrifying and incredible at the same time – I loved it and could not put it down. The plot is nothing that I could have expected and is well developed, leaving you on the edge of your seat and needing to know what happens next. I was not sure what to expect when I read the book description, but this novel did not disappoint. A definite must read thriller!
You can purchase a copy of this book on Amazon.
Rating: 5/5
About the Author
Brian Nelson is a former Fulbright Scholar who holds degrees in international relations, economics, and creative writing (fiction). His first book, The Silence and the Scorpion: The Coup against Chávez and the Making of Modern Venezuela, was named one of the Best Books of 2009 by the Economist. His work has appeared in the Virginia Quarterly Review, Christian Science Monitor,and the Southern Humanities Review, among others. He lives in Colorado with his wife and two children.
Disclosure: I received a digital copy of this book in order to facilitate this review. All opinions expressed are my own.