In The Son of the House, the lives of two Nigerian women divided by class and social inequality intersect when they're kidnapped, held captive, and forced to await their fate together.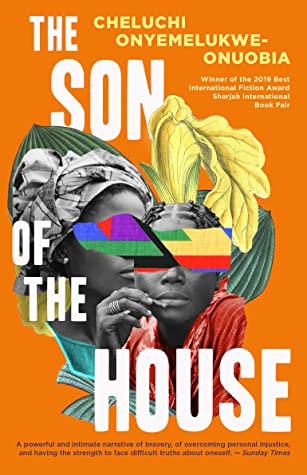 About The Son of the House
In the Nigerian city of Enugu, young Nwabulu, a housemaid since the age of ten, dreams of becoming a typist as she endures her employers' endless chores. She is tall and beautiful and in love with a rich man's son.

Educated and privileged, Julie is a modern woman. Living on her own, she is happy to collect the gold jewellery lovestruck Eugene brings her, but has no intention of becoming his second wife.

When a kidnapping forces Nwabulu and Julie into a dank room years later, the two women relate the stories of their lives as they await their fate.

Pulsing with vitality and intense human drama, Cheluchi Onyemelukwe-Onuobia's debut is set against four decades of vibrant Nigeria, celebrating the resilience of women as they navigate and transform what still remains a man's world.
My Thoughts
In The Son of the House, two women who are from two classes and social walks of life are brought together by a kidnapping and as the story unravels we learn just how connected these two women really are.
The story starts in the present with the kidnapping but we are soon brought back to the beginning of their personal stories and learn the personal stories of each of the women. Reading their journey left me in awe – their stories are powerful and moving. Each journey, while different, has similar elements. The women have struggled, suffered, and despite it all keep moving forward, day by day.
Nwabulu is a bright woman, who was full of promise – she was smart, hard working and determined. She balances her role as housemaid, caregiver for her young charge with her studies. Her downfall? A young, rich man who promised her the world but left and denied her when she needed him the most. While her dreams begin to unravel, she remains her dignity, strength and courage. I was in awe of her strength and determination, despite the way she was treated by those who should have protected her.
Julie, in so many ways is the opposite – a young modern woman living on her own and infatuated with a married man. She is independent and does not want to settle down and get married. All of this changes when she loses several people close to her. She sets herself down a very dangerous path of lies in the pursuit of happiness and honouring her family.
I loved every moment of this novel – learning about the history of both women, the path their lives took, their resilience and how their lives were connected. I have to admit, I did not see the twist coming at all! But it fit perfectly in the novel. The story is full of hope, forgiveness, pain and the impact of family and cultural beliefs can have on our journey. The Son of the House is a must read novel for both young adults and adults – you will not want to put this one down.
You can purchase a copy of this book on Amazon.
Rating: 5/5
About the Author
Cheluchi Onyemelukwe-Onuobia is a lawyer, academic, and writer. She holds a doctorate in law from Dalhousie University and works in the areas of health, gender, and violence against women and children. Cheluchi divides her time between Lagos and Halifax.
Disclosure: I received a copy of this book in order to facilitate this review. All opinions expressed are my own.