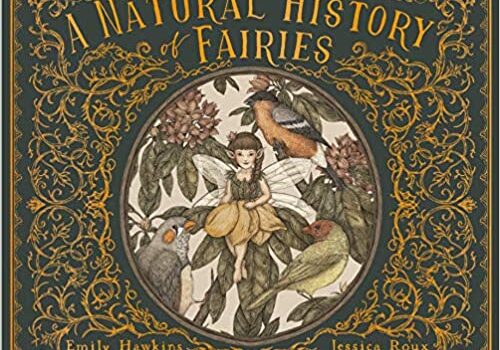 This enchanting natural history of fairies, compiled in the 1920s by the botanist Professor Elsie Arbour for her niece, is now unveiled for readers of today in A Natural History of Fairies.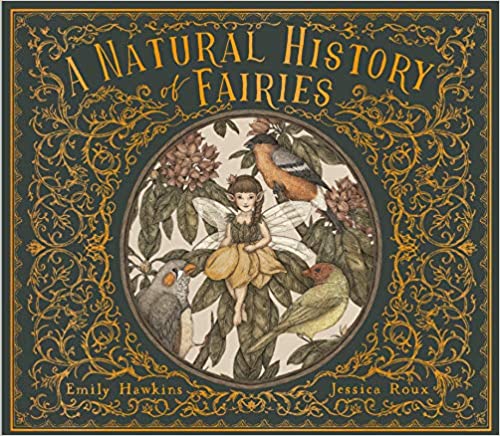 About A Natural History of Fairies
Featuring a gold foil–embossed cloth cover, a ribbon marker, and sprayed gold edges, this book is full of colorful sketches and precise notes detailing the secret life of fairies and their important role in the natural world.

Inside, you will discover the wide and wonderful array of different species of fairies around the globe and explore where and how they live. Delight in this world as you learn all about:
The anatomy of a fairy (Land-based fairies have individual, separated toes, just as humans do. However, many species of water fairies have webbed feet.)
The life cycle of a fairy (When walking in the heather, be careful of the tiny flutterpillar of the Wicklow Fairy, decked out in greens and purples.)
Clever fairy camouflage (Reed fairies living in wetlands usually wear striped clothes to hide among the tall reeds.)
Fairies around the world (Meet the Lily Hopper of sub-Saharan Africa, the Queen Fairy of New Guinea, the Penguin Fairy of the Antarctic, and many more.)
Fairy habitats (Fairies make their homes in all types of places: woodlands, jungles, deserts, the Poles, and even human homes.)
Concluding with a reminder that we must protect the endangered habitats of fairies, and all other creatures too, this is a book to be treasured for a lifetime.
My Thoughts
I love learning about folklore and the beliefs of others when it comes to mythical creatures, like fairies. How can you not want to believe that these beautiful creatures are real? I love the authors approach to fairies – so many times in history, science has thought something has not been real but later proven to be real (platypus and the giant squid as mentioned in this book!).
First, I have to say how stunning this book is – the cover of the book is just incredible and hard to put in to words. It is gold foil-embossed and you will find yourself running your hand over each line. The beautiful fairy in the middle of the cover, is just a preview of what is to come. The illustrations are stunning and bring the fairies to life page after page in their gentle, earthy tones.
I loved learning all fairies – from their anatomy, to their life cycle, fairies of the world, their connection with animals and plants, language and so much more. It is approached in such a wonderful way that reminds us that sometimes we have to believe (and how can you not believe in such wonderful, magical creatures).
A Natural History of Fairies is a stunning, incredible gift for young readers – they will fall in love with the knowledge sharing and the stunning illustrations. It is a special gift that will be treasured for years to come.
You can purchase a copy of this book on Amazon.
About the Author
Emily Hawkins is a writer and editor of children's books for all ages. She wrote the New York Times bestseller Oceanology, as well as several other titles in the Ology series, which has sold over 16 million copies worldwide. She holds a first-class English degree from Nottingham University, and now lives in Winchester with her young family.
Jessica Roux is a Nashville-based illustrator and plant and animal enthusiast. She loves exploring in her own backyard and being surrounded by an abundance of nature. Using subdued colors and rhythmic shapes, she renders flora, fauna, food, and many other things with intricate detail reminiscent of old world beauty. Her first book with Frances Lincoln is A Natural History of Fairies (September 2020).
Disclosure: I received a copy of this book in order to facilitate this review. All opinions expressed are my own.