Spooktober with DK Canada: Fairy Tales, Myth and Magical Beasts

October is the month of magic, myth, scary stories and tall tales. It is also my favourite time of the year! I love learning about myths, legends and fairy tales. I enjoy sharing this passion with my children and I know that they love hearing these stories as well.
DK Canada has two fantastic books that you can fall in love with this month that will delight, engage and and teach: Children's Book of Mythical Beasts & Magical Monsters and A First Book of Fairy Tales and Myths.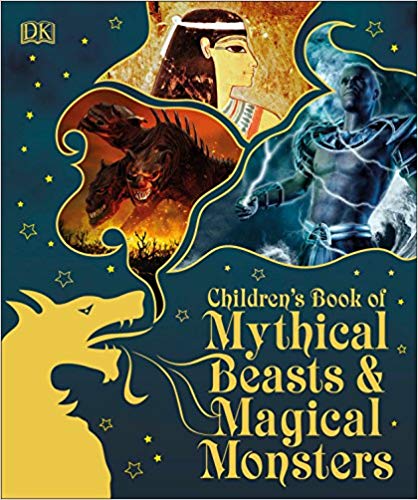 Children's Book of Mythical Beasts and Magical Monsters
Discover the adventures of heroes and monsters that exist in the world of mythical and magical creatures.
Stories have been told on every continent since the dawn of time. Some have lasted for thousands of years, becoming what we know today as myths. These fantastical tales educate by creating amazing worlds and inhabiting them with wondrous feats of heroics and dastardly deeds of evil.
Mythical Beasts & Magical Monsters gives children the opportunity to discover these stories, and encourages them to understand storytelling from different cultures.
This book takes readers around the world and in time to teach them about myths, legends and folklore. We learn about who the characters are, their story and the adventures they take.
We start off exploring nature and nation – how early people tried to understand themselves, the world around them and how the universe began. One of my favourite stories in this section, was the Japanese myth around the creation of the universe that began with two gods, Izanagi and Izanami. There was even a section on how create sound effects to go along with this story to make it even more engaging for younger readers. In Magic and Mayhem, it examines how people explained the unexplained and tried to understand why good and bad things happened. I loved the section on the crafty tricksters – especially Saci Perere from Brazil who had the power to appear and disappear, leaving many things wrong in his wake. We also learned about Baba Yaga, the Russian Witch, whose name we had heard of in a movie but had never looked up prior to this. Talk about a scary tale! Finally we have Quests and Battles, where they examine the legendary heroes of cultures. The warriors who overcame great obstacles to achieve heroic deeds. You may know some of these names – Berserker, Thor, Odin, Lord Vishnu, Ganesha. They even had a section for warrior heroines (yay!).
This is a beautiful, well organized and illustrated book that will delight readers of all ages. We learn so much more about the popular stories we have heard in passing and in movies along with many new characters. I loved that the book took us on a journey around the world – not favouring one particular region or type of story.
You can purchase a copy of this book on Amazon and Chapters.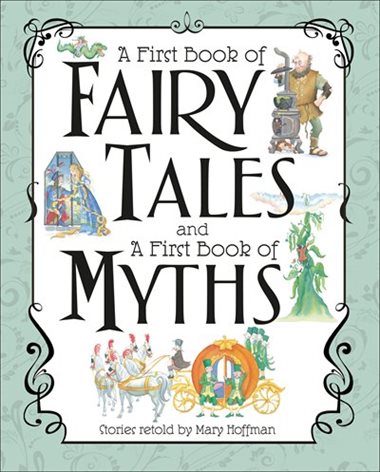 A First Book of Fairy Tales and Myths
Two beautifully illustrated books about myths and fairy tales combined in one slipcase to make the perfect gift for young children.
This two-volume set is a collection of well-known myths and legends and classic fairy tales from around the world. A First Book of Myths includes classics such as the Fall of Icarus, Andromeda, How Butterflies Began, and the Crocodile and the Baby. Mary Hoffman's lively narratives and the delightful illustrations capture the worlds full of gods and monsters. In A First Book of Fairy Tales, Mary retells 14 classic children's fairy tales, including favorites such as Cinderella, Jack and the Beanstalk, and the Little Mermaid. The charming illustrations bring the best-loved fairy tale characters and events to life.
These two beautiful books come in their own slipcase package and are gorgeous (I almost didn't want to open them they looked too perfect). One book focuses on fourteen myths and legends and the other on fourteen fairy tales. The fairy tales include: Cinderella, Rapunzel, The Little Mermaid, The Frog Price and Diamonds and Toads to name a few. The myths and legends book included: The Golden Touch, A Newborn Warrior, How Butterflies Began, Rama and Sita plus many more. I was familiar with a few of these titles but some of these were new to me, which is always fantastic.
The stories in both books were easy to read out loud and perfect for young readers to follow along and engage. You can read it one story at a time or several stories together at night before bed. The illustrations are beautifully done and feel warm and welcoming (versus dark and scary like the previous book). We thoroughly enjoyed these two books and strongly feel this would make an excellent gift for young readers any time of the year.
You can purchase a copy of this book on Amazon and Chapters.
About the Author
Author Mary Hoffman is a popular children's author with more than 90 books to her name. Her unique observations bring vitality and humour to each of her stories, including A First Bible Story Book, Amazing Grace, A Twist in the Tail, and Song of the Earth.
Disclosure: I received the books above in order to facilitate this review. All opinions expressed are my own.